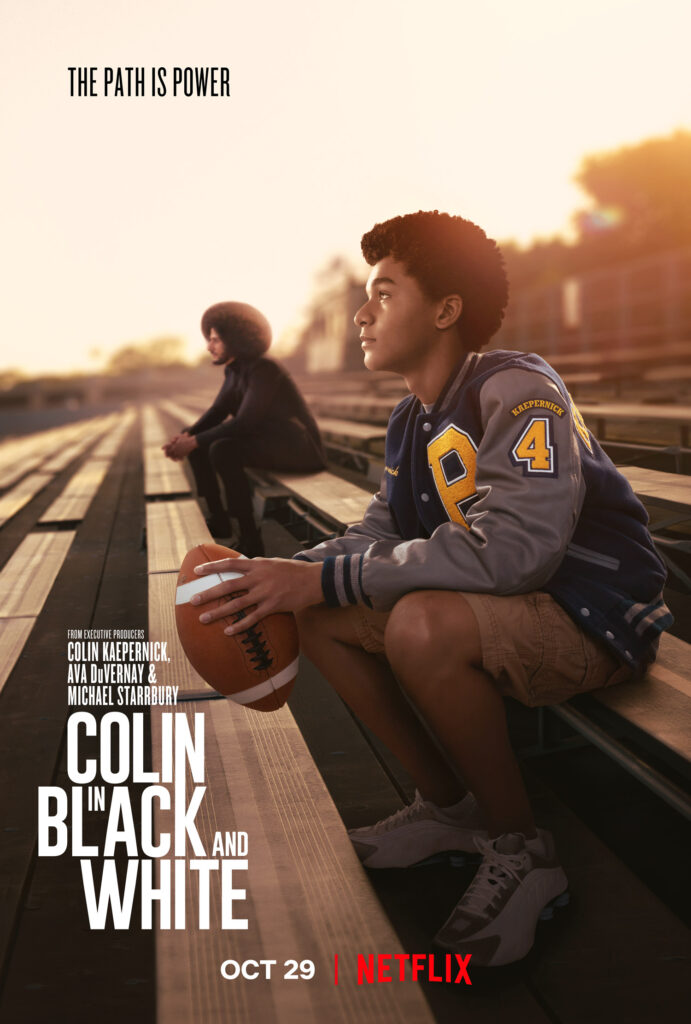 Spoiler Alert: I like writing about movies that make me feel uncomfortable.
When I committed to screening and writing about the newly launched Netflix Limited Series Colin in Black & White, I did so fully knowing that some people will absolutely hate this show. Those might be the same people who decide to hate me for writing about this show. So go into your reading of my remarks here knowing that I'm not telling you that you have to watch anything. But also know that I tend to prefer projects that make me feel strongly.
Just yesterday, I sat in a screening room watching something that made me cry so hard that I had to change my facemask twice. I can't wait to share that project with you. I also like shows and movies that make me laugh uproariously or jump out of my seat in fright or make me angry enough to spit. My favorite stories make me want to immediately watch them with someone I love so that I can talk with them about how we saw made us feel about the subject matter, but also about ourselves as individuals and about our relationships with one another.
For this reason, I couldn't wait to write about Colin in Black & White, a show that is likely going to raise some ire. If you watch this and don't walk away feeling something, and feeling it strongly, I recommend checking your pulse.
Synopsis:
From co-creators Ava DuVernay and Colin Kaepernick comes Colin in Black & White, a bold new dramatic limited series that chronicles Kaepernick's coming of age story, tackling the obstacles of race, class and culture as the Black adopted child of a white family. Colin in Black & White stars Jaden Michael as Young Colin before reaching the highest levels of American football as an NFL quarterback and becoming a cultural icon and activist; Nick Offerman and Mary-Louise Parker as his well-meaning parents Rick and Teresa; and Colin Kaepernick himself, who appears as the present-day narrator of his own story, guiding viewers through a robust and colorfully presented array of historical and contemporary contextual moments. You don't know Kaepernick until you know Colin.

Source: Netflix
I'd call Colin in Black & White an edutainment docudrama aimed at reaching teens with a message of hope and empowerment. Even in its desire to teach history, family is at the core of the storytelling here. So the casting choices of the three principal actors seem quite significant. Jaden Michael shines as young Colin, a kid who is so determined, disciplined, and downright likable that you'd really want him as your son's best friend. Nick Offerman and Mary-Louise Parker star as Colin's adoptive parents Rick and Teresa Kaepernick. Through six episodes, we meet young Colin at home, at school, and on various playing fields. Along the way, we also encounter his peers, other adults in his life, and men and women who help shape Colin's emerging identity as a young Black man.
Having been adopted by the Kaepernicks at five weeks of age, Colin moves in his early years to Turlock, California. A great student who excels at every sport, Colin clearly begins to struggle not only with typical teenage angst but more essentially with a crisis to know and understand his identity. The show depicts his parents making their best efforts to fully and lovingly support their son. But also on display are those moments when out of a lack of understanding or downright ignorance, they act in ways that badly hurt Colin. Teresa is shown on several occasions acting in quite an egregious fashion. Since I myself am a mother, I could not help but look closely at how her character is depicted and wonder if some of what we see on the screen is a dramatic representation. But the truth of any situation like Colin's is that his situation as a biracial child moving into a white family brings unique trials and challenges.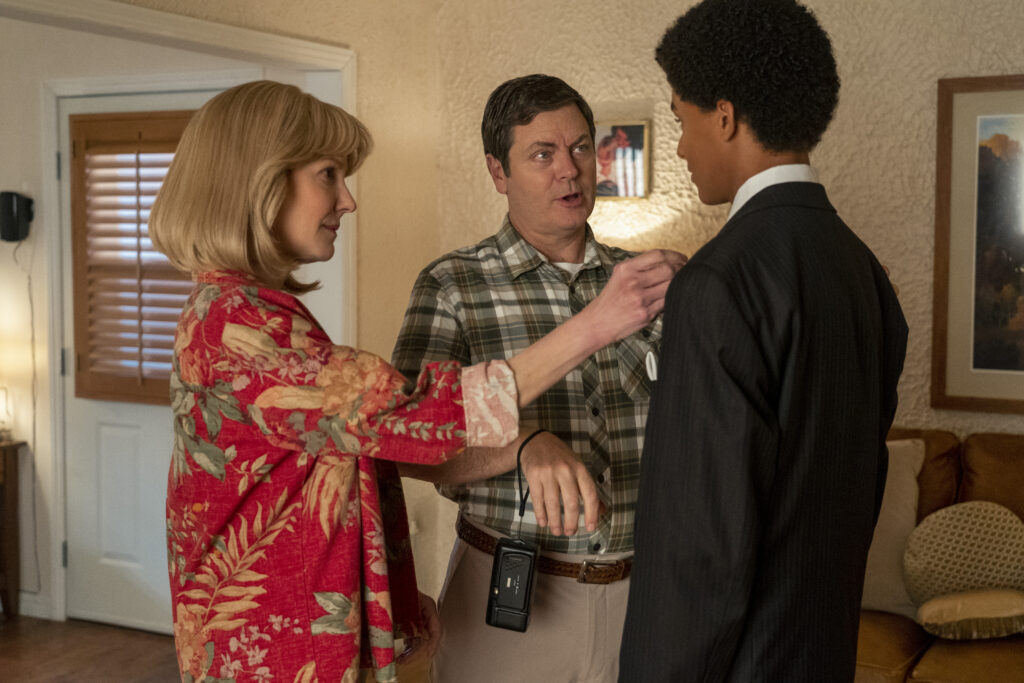 One of my favorite aspects of Colin in Black & White is that Ava DuVernay and Colin Kaepernick and the show's team of writers not only offer us a peek into Colin's home life and the makings of his early career as a gifted athlete but also educate us on the history of race and activism in the United States. I felt the show was at its strongest when Kaepernick's narration would meld touchstone moments of his life into these historical vignettes, giving the show's target audience learning opportunities that are too rarely afforded them in traditional educational settings. Kaepernick is not only committed to his advocacy. He is obviously now using his vast intelligence to find innovative ways to reach young people who need and will benefit from strong messages of motivation and inspiration. This is impactful and is what quality "edutainment" should look like.
As much as it educated me on some history that I've sadly never known, the show features some moments that were hard for me, a middle-aged white woman, to watch. Try as I might to be a good ally to Black friends and community members in my life, I have never and will never walk in their shoes. When I found myself feeling uncomfortable over overt racism or microaggressions in the show, it caused me to pause and look introspectively at WHY I was having those feelings. Again, as I shared earlier, I'm most drawn to stories that evoke feelings, even when those feelings are hard or challenging. Watching this show put me into a heightened sense of alert over how my own attitudes and behaviors might impact those of other races.
A look by @LisaHendey at the @Netflix limited series #ColininBlackandWhite Colin in Black & White from @kaepernick7 and @ava – edutainment that matters, educates and inspires.
Click To Tweet
Colin in Black & White is rated TV 14. Parents of mature teens may consider viewing this in their homes and find that the experience will evoke profound conversations not only about societal issues such as racism but also about the very real pressures and stresses that teenagers face in today's world. Colin's struggle to pursue his dream and his parents' unflinching support along that path is a story being played out across the country. Our homes are places where our children face not only the quest for bright futures but more importantly affirmation for their unique identities and how they are called to make this nation of ours a better place. Anything that can get us to stop in our busyness, to ponder topics that matter, and to talk with one another is important.
For the record, I loved my experience of watching Colin in Black & White. I'm rooting for future seasons that will take us even further not only into Colin Kaepernick's personal history, but the history of our interconnectedness as people as well. With nuanced, innovative storytelling, this is one series that will challenge many viewers to look beyond headlines and into the deeper motivations that have sparked new generations of discourse.
That matters.