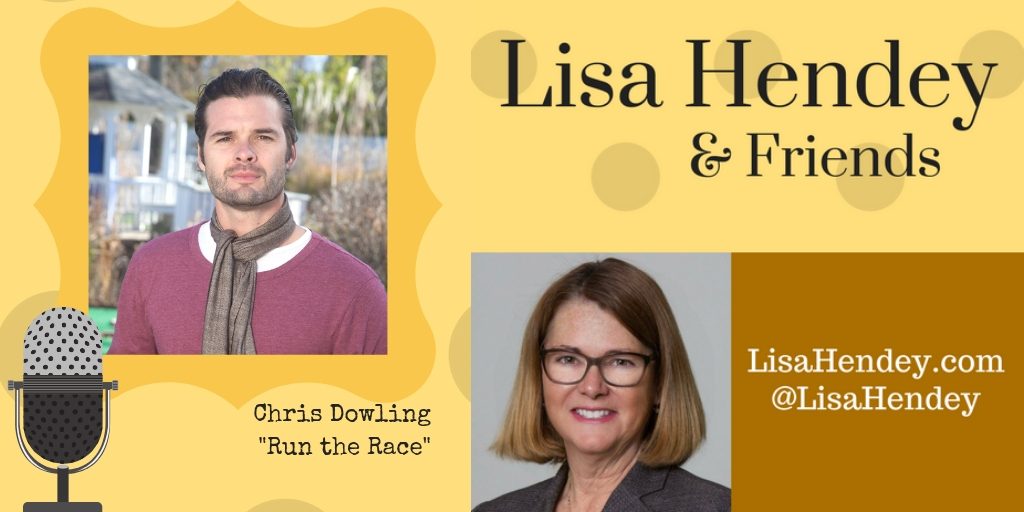 On this week's show, we hear from writer, producer and director Chris Dowling about his involvement with the Tim Tebow produced film "Run the Race".
Chris Dowling (Director, Co-Writer)
Chris Dowling is a writer, producer, and director known for his work on such films as WHERE HOPE GROWS and PRICELESS and the television series Repo Games. Chris earned his radio/television/film degree from the University of Texas and moved to Los Angeles in 2009 when he wrote and directed his debut film ROCK SLYDE featuring Patrick Warburton.
Catch @LisaHendey and Friends podcast interview with @RunTheRaceMovie director Chris Dowling who shares about #RunTheRaceMovie and @TimTebow involvement. Movie about football, family, faith and being your best.
Click To Tweet
Synopsis:
In RUN THE RACE, two desperate brothers sacrifice today for a better tomorrow.  Reeling from his mother's death and his father's abandonment, Zach, an All-State athlete, finds glory on the football field, working to earn a college scholarship and the brothers' ticket out of town. When a devastating injury puts Zach—and his dreams—on the sidelines, David laces up his track cleats to salvage their future and point Zach toward hope.  Available on DVD and Digital now, RUN THE RACE shows what's possible when you run to—instead of from—the overwhelming love of God.
Listen to the Podcast:
Listen to this week's podcast at Podbean, Libsyn, iHeart Radio or at your favorite podcast app
Check out all of our book and movie picks at Lisa's Amazon Page. For Lisa's speaking schedule visit www.LisaHendey.com. Send your feedback to lisahendey@gmail.com or connect with Lisa on social media @LisaHendey. Thanks for listening! Please consider sharing, bookmark my page for future episodes and subscribe at iTunes to catch every show. Please consider leaving a review or rating for the podcast to help us grow!