My first encounter with Jennifer Baugh (see Jennifer's bio here), the gifted Founder and National Executive Director of Young Catholic Professionals, occurred at a leadership conference. As I sat in the audience listening to this remarkably poised young woman speak, I knew that I wanted to meet her and learn as much about her work as possible. I'm always on the lookout for mentors. And while Jennifer is a few decades (at least) my junior, she is the type of woman–the type of faith leader–I want to be when I grow up.
I hope you'll enjoy learning more about Jennifer Baugh through this brief interview. I urge you to visit and learn more about Young Catholic Professionals. In an age when our Church asks how we can reach a generation who seems to be staying away from our pews, YCP is raising up a tidal wave of servant leaders. Their mission, t0 "Work in Witness for Christ" is a call to action for any of us, regardless of our age.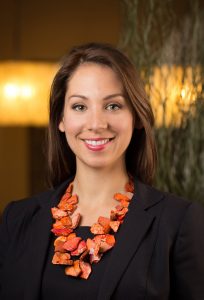 Q: Jennifer, congratulations on the continuing growth and success of Young Catholic Professionals. Would you please begin by briefly introducing yourself to our readers?
Hi Lisa! Thank you so much. In addition to being a new wife (~6 months in!), I am the Founder Executive Director of Young Catholic Professionals (YCP). I worked for Merrill Lynch in Global Wealth Management and for FTI Consulting in Corporate Restructuring before receiving God's call to start the YCP ministry in 2010. In just 7 short years, YCP has 5 full-time employees and 150+ dedicated chapter leaders serving our 16 chapters across the country! I could have never imagined I would be working for a rapidly growing Catholic non-profit. It has been an incredible journey!
Q: I'd love to know a bit more about how you came up with the idea to start Young Catholic Professionals. Can you share a bit about YCP's origins and how your own spiritual path led to its founding?
About 7 years ago, I had just graduated from an MBA program, and I had about 8 months off in between school and starting an intense consulting job. I was going through a period where I was searching a lot and trying to find a purpose in my life.
Growing up, I was exposed to our Catholic faith, but I hadn't really pursued a prayer life on my own. It became clear to me during this break before starting my new job in Dallas that this was the time God was giving me to get to know Him better. As I learned about the Catholic Faith, I read that the Christian experience is not passive and that it cannot be experienced alone. At the same time, I was meeting many other young people in Dallas, and I could sense a general restlessness among my peers and that we were all looking for a deeper purpose for our lives.
It was important to me to keep my newfound faith once beginning work, so I sought out local young adult ministries, looking for other Catholics to help me stay accountable. Many of the ministries seemed to lack vibrancy. I knew that there could be something more – a ministry that was not afraid of sharing the Truth in a way that was challenging and inspiring.
Several months later, I quit my job as a financial consultant to work on YCP full-time to pursue God's calling to build Young Catholic Professionals into a lasting and vibrant ministry. And it has been such a blessed journey!

Q: What is the mission of YCP? How do you see young professionals embracing its charter around the country?
YCP is a 501(c)(3) non-profit organization that encourages young adults working in various professions to 'Work in Witness for Christ'. Our target audience is young adults in their 20s and 30s who are highly motivated to achieve personal and professional success while at the same time seeking greater understanding of their Catholic faith and identity.
Our various programs and events draw in Catholics at every stage of the faith journey. Our goal is to inspire young professionals to grow deeper in their faith and then empower them to act as ambassadors for Christ in all areas of their lives, including the workplace. You can find a description of all of our programs here.
Central to YCP's mission of invigorating young Catholic leaders is the importance of connecting with the current generation of Catholic leaders. Young Catholic Professionals offers an avenue to engage with top Catholic executives in a way that is unique among young adult ministries. Invigorated by a community of peers and mentors, young professionals have the strength to witness to their faith at work and through work—performing their professional vocations for the glory of God and seeing the workplace as a natural site for joyful evangelization.
Over the years, we've been able to confirm the effectiveness of our programming. We now have 16 chapters nationwide, endorsements from 23 bishops, and testimonials from countless young people who have been transformed by YCP.
As Michael Kelly, a YCP member recently shared, "It wasn't until I joined YCP that I realized how unhappy and lost I truly was. I was numb, simply going through the motions with no purpose or direction. The friends I've met through YCP make me want to be the best possible version of myself, day in and day out. They provide the encouragement I need to grow as a disciple for Christ."
In such a short time, YCP has helped thousands of young adults discover God's purpose for their lives and by 2019 we are capable of impacting 20,000 young adults!
Q: In an age when much of the conversation in Church circles is about the rise of the "nones", you are bucking trends. What do you have to say about the role of "young" Catholics in the New Evangelization?
Our last several popes have specifically highlighted young people as a beacon of hope for our Church. St. John Paul II said young people are the future of the world and Pope Emeritus Benedict said that a new generation of Catholics would be responsible for renewing the Church's presence in society. In spite of these inspiring words, the Catholic share of the US population is declining rapidly while those who don't identify with any religion are growing. This is occurring among Catholics of all ages but it's most pronounced among youth.
Young Catholic Professionals seeks to be part of the solution. Young people today suffer from a lack of Catholic identity, a limited sense of community, and a lack of purpose.  YCP's model works because it confronts these challenges head-on and turns them into our 3-fold purpose! Our ministry exists to:
Foster Catholic identity, so that young professionals understand their Catholic faith and are unafraid to share it in the public square.
Encourage community, so that young adults strengthen one another to live the teachings of our Catholic Church in their personal and professional lives.
Inspire a call to action, so that young Catholics take personal responsibility for the challenge to reinvigorate our Church and our world.
The future of our Church and its role in American society rests on whether or not young people decide to embrace the gift of their faith, living it in all its fullness in their workplaces, homes, and social networks!
Q: You are a busy woman! Can you shed some light on how your own spiritual life is fueled and how being a person of prayer helps you to accomplish so much each day?
My spiritual life is a combination of learning, praying, and sharing. I try to make time each day for all three.
Learning:
It's easy to be on "auto-pilot" when we're not invested or educated. By learning about the sacraments, the liturgy, etc., I find myself much more engaged. I especially love learning about the saints! St. Bernard sums it up well: "when I think of them, I feel myself inflamed by a tremendous yearning." A saint statue or a stained glass has more meaning for me now because I can draw from my knowledge of their life. This is the beauty of our faith! We could spend our entire lives learning and still have room to learn more!
Praying:
I try to maintain a balance of spontaneous prayer and structured prayer throughout the day. My spontaneous prayers include simple exchanges with God as the day unfolds and offering little projects or challenges (Thessalonians 5:17) to Him. My structured prayer includes morning offering, team prayer at work, rosary with my husband in the evenings, etc.
Sharing:
"Love…by its very nature must then be shared with others. Love grows through love." (Pope Emeritus Benedict XVI). If we love God, we have to tell others about Him. If we cherish our Catholic faith, we can't keep it to ourselves. My own spiritual life grows the more I pass it on.

Public Domain, Link
Q: I've seen you in action Jennifer and was so impressed by a talk you recently gave on the spirituality of St. Frances de Sales. How can his writings be a blessing for those of us who live in today's overly wired, overly busy world?
St. Francis de Sales's message is very practical and can be easily applied to our daily lives in the midst of everything we have going on. He provides us with a plan to grow spiritually, as he explains how our work can only be truly effective if we anchor our interior life in Christ. St. Francis de Sales explains that holiness is possible in EVERY state and condition of life, and he shows us how we can live IN THE WORLD, without being OF THE WORLD, by providing us with relatable examples and tangible tools to use, here and now. He covers prayer, spiritual direction, authentic friendship, virtues, performing our work well for the glory of God, and more. If we grow in devotion to Christ, we will be able to live virtuous lives and be more energized, joyful and free even when the world is asking so much of us. St. Francis de Sales encourages us to keep our eyes on the prize – our individual call to holiness!
Q: Fast forward five years from now… what are your hopes for YCP and for your own path as a missionary disciple?
In order for me to explain where we'd like to take YCP in the next several years, I think it would be helpful to give you a brief overview of YCP's history. We've essentially grown in phases:
Our first phase was our "Build Phase" from 2010-2013. We built YCP from the ground up! We created and piloted our programs and developed a tested, legitimate model that could be scaled.
Our second phase, which ends this year, is our "Growth and Expansion Phase".
We took our viable model and rapidly grew from 1 Dallas chapter to 16 chapters in a matter of 3 years!
And beginning in 2018, we will enter into our third phase, "Forming Lifelong Servant-Leaders for our Church"
We now have a huge audience of young adults across the nation who are looking to YCP to help them grow. While our current programming is very dynamic and is truly helping thousands of young Catholics, we want to create a more formalized development path for each person that enters YCP so that there is a clear beginning and a clear end to their experience.  As part of this path, we want to establish a capstone leadership development program as a culmination of the YCP member formation, aimed at providing our Church with an ongoing source of leaders. We want to make sure we are giving our members the faith resources and tools they will need to "graduate" from YCP as leaders and lifelong servants for their parishes and of the various ministries in our community. If we do this, YCP will really be that bridge that is so needed in our world today.
In terms of my own path, I pray for God's will. As a team each day, we pray a prayer by St. Teresa of Avila:
"Lord, grant that I may always allow myself
to be guided by You,
always follow Your plans,
and perfectly accomplish Your Holy Will.
Grant that in all things,
great and small,
today and all the days of my life,
I may do whatever You require of me.
Help me respond to the slightest prompting of Your Grace,
so that I may be Your trustworthy instrument for Your honour.
May Your Will be done in time
and in eternity by me, in me, and through me. Amen."
This is my prayer for my own path as a missionary disciple! We'll see where He takes me. I have learned over the years that we can have a plan, but it's also very important to be grateful for the gift of the present moment. I pray I can be truly docile to His will and always grateful for His love and mercy.
Meet Jennifer Baugh of @YCPNational, an incredible woman who is on a mission to help others work in witness for Christ.
Click To Tweet
Q: How can readers learn more about YCP? What does it take to get a group started in a new community?
Our website is a very helpful resource- www.youngcatholicprofessionals.org- you are able to find more information about our mission, our programming, our chapters, and how to get a chapter started there too!
If you think that a YCP chapter would thrive in your city, we would love for you to email national@youngcatholicprofessionals.org and our National Staff would be more than happy to connect with you and see where God takes the conversation!
To provide you with a bit of an overview, to get a chapter started in a new city there needs to be a clear need for YCP's programming and a critical mass of young people that would be interested in joining us on this exciting journey! We have three key steps that can lead towards a potential chapter launch:
Receive a formal letter of endorsement from the local Bishop, welcoming YCP into the diocese. We like to develop close relationships with each diocese our chapters reside in prior to their formation so that there is a clear, collaborate friendship and together we can further enrich Young Adult ministry within the city.
Gather 7+ Chapter Leader Applications to form a volunteer leadership team to launch the chapter. We also look for Board Members and a Chapter Chaplain during this time.
Fundraise $25k to support and ensure the quality of the chapter at a prudent rate
We have some helpful frequently-asked-questions regarding these 3 steps towards chapter formation at the bottom of this page on our website.
Our National Staff works closely with each prospective chapter and their potential leadership team in order truly bear fruit within the city. We have countless resources and material to assist in the accomplishment in all 3 key items. Not only that, but each new chapter has a nationwide network of other chapter leaders, board members, executives, chaplains, etc. to support it!
Once the three items are met, the chapter leadership team will begin about 3-4 months of training up until their chapter kick-off celebration, which you don't want to miss!
Q: Are there any additional thoughts or comments you would like to share with our readers?
Wow! What a great opportunity this is! Thank you!
YCP, by the grace of God, is continually presented with incredible opportunities to reach more and more young people not only across the United States, but the world! We have young people reach out to us daily, longing for our ministry. In order to reach these individuals while continuing to support the chapters already in existence, we need your help! There are many ways to become involved in YCP, whether that be through financial support, helping a chapter in formation reach their fundraising goal, volunteering as a strategic advisor to our National Staff, serving as an Executive Speaker, Mentor, Panelist (and more!) for our various chapters, or facilitating introductions to influential Bishop and Catholic leaders within your communities.
If any of the above ways to become a part of our national YCP family interest you, please email national@youngcatholicprofessionals.org and we will promptly get back with you. If you'd like to donate now, you are able to so here. Thank you for your generosity and sharing your time with us!