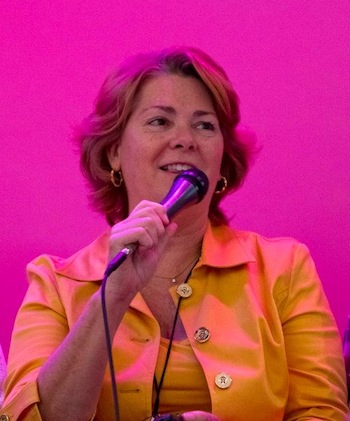 Lisa Hendey is excited about the potential of speaking with your group, parish, or organization.  She is available to present to your group — large or small — on a variety of topics including Catholic faith and family life, women's issues, New Media and Internet Safety issues,  and personal productivity topics.  Lisa brings an upbeat style and tempo to her talks, blending her "real world" experience and energy with a compelling commitment to sharing her faith with others.  Her presentations can be tailored to your specific theme to ensure that your participants receive the greatest possible intellectual and spiritual outcomes.
For a complete speaker's package, including a letter from Bishop Armando X. Ochoa and audio samples, contact Lisa at lisahendey@gmail.com.
View a schedule of Lisa's upcoming and archived speaking events.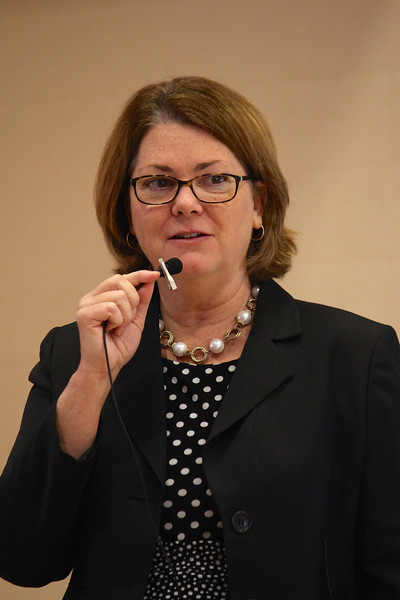 Lisa frequently includes multimedia features in her talks, but can also speak in a more simple and intimate setting as well.  Whenever applicable, PDF versions of her talks will freely be made available to your participants at no charge.
Domiciled in the Diocese of Fresno and has received authorization and permission from Bishop Armando Ochoa to speak both within and outside of the Diocese of Fresno.
Recent participants at Lisa's presentations have said the following:
"Lisa's recent talk on social media at the 2015 Los Angeles Religious Education Congress was both insightful and interesting. Lisa is a gifted speaker and skillfully engages her audience with both PowerPoint and multimedia presentations. Lisa has knowledge, pinache, and a great sense of humor, the perfect recipe for a powerful speaker." Father Roger Gustafson, Saint Hilary Church, Tiburon, California
"It is with great honor that I provide this endorsement for Lisa Hendey. Not only is Lisa a solidly Catholic and genuinely thoughtful speaker, she is as down-to-earth and authentically kind as ever a person could be. Lisa will always affectionately be known as the honorary Godmother of the Catholic Women Rejoice conference, and rightly so! It is in no small part because of the grace and generosity of Lisa's multiple "yeses" during the event's embryonic planning stages that I had the courage to jump into producing the endeavor in the first place. Lisa provided priceless insight and encouragement that went above and beyond that of a typical speaker, and for her unparalleled support, I am forever grateful. In fact, things went so well our first year, the organizers invited Lisa back for our highly successful third year (2014). I encourage anyone who has not already done so to be blessed by Lisa's work at CatholicMom.com, inspired by her many books (including the recently-published "The Grace of Yes"), and encouraged by her steadfast devotion to Mother Church. Lisa Hendey is, without a doubt, an important contributor in the New Evangelization, and consistently works to bring about the Kingdom of God by utilizing the talents with which God has gifted her. I wholeheartedly recommend Lisa Hendey without reservation." Heather Renshaw, Founder of Catholic Women Rejoice, Portland, OR
??"I thought Lisa's talk" Selfies and Souls" at the Archdiocese of Los Angeles Religious Education Congress was really fantastic. As a mom, and employee of the church, I found the information very helpful in sharing with my child and the youth in our parish. I am not a "tech" person and things were explained in a way that even this old mom could understand. :)" Colleen B., Parish Administrative Assistant
"Lisa came to the TASTE Program in Laurel, Maryland in the Fall of 2014. It was hard to chose a topic from the many excellent choices available. Her topic was Nurturing a Catholic Mom's Heart, Mind, Body and Soul. Our group consists of many women from 60 parishes who vary in age from 24 years old  – 87 years old and everyone left filled with happy hearts, knowing that they were loved by Jesus! Not everyone was a mother and some were widowed but all were fed! A well rounded talk with a speaker who has sincerely committed her life to the Lord. Following her talk she autographed her books and the line was quite long. She is not only an excellent speaker but a wonderful author as well. What a treat! Thank You Lisa! God Bless You." Marian Frentz TASTE Program Coordinator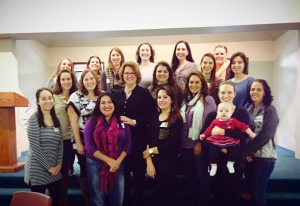 "Lisa empowers her audience to own the social media she brings to life for them. She demonstrates how knowledgeable she is and shows participants that they can step up and 'make it happen' for their parish, youth group, or ministry. Foremost, Lisa Hendy is sincere and dedicated to our Catholic faith. She brings faith and ministry new energy with her professionalism, credentials, vigor, and genuine interest in her listeners." Michelle, University of Dallas Ministry Conference, Irving, TX
"Lisa's talk on Social Media very helpful. It was lively and engaging and gave this Grandma a "you-can-do- this" attitude towards all the new media out there. As social media evolves, it's encouraging to have a go-to person and website (CatholicMom.com's "Tech Talk") to help me learn what might work for my apostolates. Thank you, Lisa!" Julia, St. Elizabeth Ann Seton, Keller, TX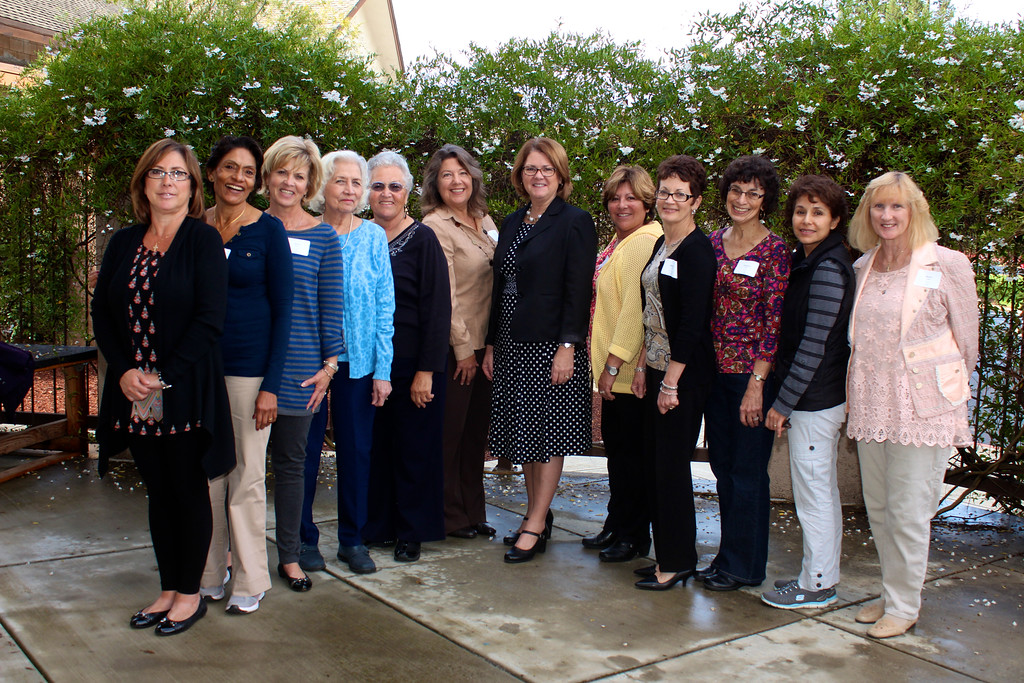 "Lisa Hendey was a breath of fresh air. She makes theology fun and bubbly! This lovely woman shows us that Saints don't have to be stodgy! With her creative game of Catholic Jeopardy, which she calls Catholic Certainty (isn't it great we can be so sure in our faith), we were comforted by the Saints who are there for us. Whether we knew the answers or learned a great deal on Saturday, Lisa showed us that there is great wisdom to be found in the lives of the Saints. We cannot leave them in the background of our lives (and our web browsers). We must reach out to them, learn from them and use them as inspiration to get through this world. And guess what, it can be really fun! Go learn about the Saints and then share them with others! Talk about Saints with your girlfriends. Think of ways the Saints can help you get through your daily life. They're always there, ready to hear your prayers and to pray for you as well." SJ, Catholic Women Rejoice
"Lisa was a delight to work with. Her presentation was tailor made to fit the theme and audience at our women's conference, and her very presence brought a warmth and joy that the day would have lacked without her. She was so available to each of the 300 women in attendance, whether it was to sign a book, offer advice, or just to say hello. Her "realness" was refreshing and inspired us to discover how we can hear God's call and become saints."  LF, Women's Conference, Vancouver, WA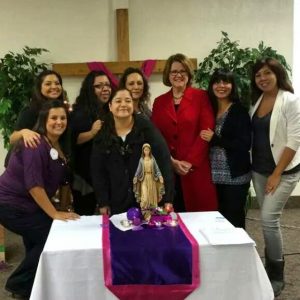 "Lisa Hendey is a warm, down-to-earth and inspiring speaker who has a particular talent for making it seem like she is speaking to you alone and not the masses.  Her recent keynote presentation on "Perseverance" at our annual live conference in Schaumburg, Illinois was inspiring, candid, humorous and edifying. I highly recommend her as a speaker on any topic!" Ellen Gable Hrkach, President, Catholic Writers Guild
"Lisa is always one of our most popular presenters at the Catholic Marketing Network.  She's a real pro that understands her audience and always crafts a presentation that is both entertaining and informative." Alan Napleton, President, Catholic Marketing Network
"Lisa was fabulous for our annual Women's Retreat in Julian, CA.  So many attendees said "she was speaking directly to me all weekend!"  She's practical, funny, emotional, inspiring, God-filled!  Very easy to work with, was everything we hoped and MORE!  Definitely one of the best speakers we've ever had!  She appeals to all ages, backgrounds and hearts.  A better fit couldn't be found!" Kesa H., Chairperson, Whispering Winds Women's Retreat, Julian, CA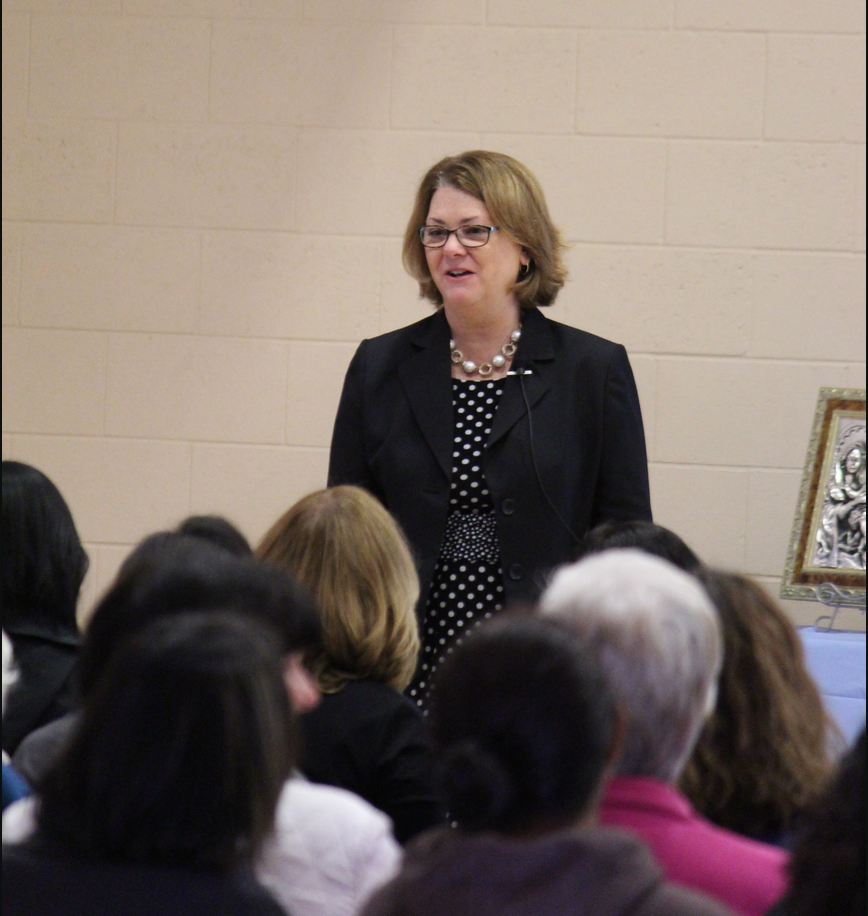 "Lisa Hendey spoke at the Diocesan Women's Conference in Venice, Florida. She shared her wealth of knowledge as a mother, Catholic and child of God. Her balance of spirituality, motherhood, business savvy technology and simple examples of how to live were an amazing gift to the woman that day." Angela Exner, Family Life Coordinator, Diocese of Venice
"Lisa, I just finished reviewing our evaluations from our Dynamic Women of Faith conference in Toronto, Canada. Page after page, every single participant loved your presentation. Here are just some of the things participants said, "Very inspiring, loved the modern outlook on the saints, funny, very encouraging, wished we had more time, very informative, down to earth and practical…" Lisa, the list goes on and on. You are obviously a seasoned speaker, who is not only professional, but fully loyal to the Magesterium of the Catholic Church. I will never forget your talk at the Calling ALL Girls event for high school students the night before. There wasn't a dry eye in the house! I just can't wait to read your new book, The Grace of Yes! It was delightful to work with a speaker who was flexible, accommodating, calm and so very reassuring. Lisa, your love, dedication, humility, hard work and trail blazing travel schedule certainly has left me inspired. You leave no stone unturned to help bring souls closer to Christ. We were blessed to have you and would love to have you back!" Dorothy Pilarski, Founder, Dynamic Women of Faith, Toronto, ON
"Lisa's faith and love for Catholic families was truly evident in her talk at Holy Spirit Catholic Church.  Her calling as an evangelizer and public speaker helped make this not only an informative night but one that was spiritually uplifting.  Holy Spirit Catholic Church would like to thank Lisa for her talk and her dedication to spreading the Gospel message." T.T., Director of Religious Education, Holy Spirit Catholic Church, Fresno, CA
"Lisa Hendey had just the right message for the new year. We asked her to speak to our Catholic professional group on productivity and spirituality. Lisa combined practical organizational tools and personal experience for a much-needed motivational prod. Her heartfelt lessons from Rwanda will not be forgotten." J.M., President, Catholic Professional and Business Group, Reno, Nevada 
"Lisa Hendey came to speak to our military spouse, Catholic Women of the Chapel group.  Lisa was able to relate her journey in the Catholic faith to the unique challenges that military spouses experience.  She helped us realize, the faith journey is not perfect and every journey is different, but it is your journey.  We studied the Handbook for Catholic Moms and we were thrilled to meet the amazing soul that wrote this book! Our group found a friend and mentor in Lisa, which has touched all of our lives. Words cannot express how much our group enjoyed Lisa's visit. We hope to see her again in the future." Fort Ord Mother's Group, Fort Ord, California
"Thanks again for gracing our community with your lovely presence. I noticed the women were spellbound as you shared your wonderfully wise insights and deep faith. Keep up the good work!" Fr. T., Pastor, California
"The Women of St. Jude group at St. Jude parish in Peoria, Illinois had the great pleasure of having Lisa Hendey Skyping with us.  We were very excited to hear all she had to share with us on Advent!  She was such a warm and generous speaker.  We had almost 50 women attend from young mothers to grandmothers.  She was very helpful and informative on ways to not only help our Advent Season be less stressful, but also how to help women of our parish gain the same stress free Advent Season.  We can't wait to invite her back and see what else she has to offer!  Thank you Lisa!  It was truly a pleasure to have you join us!" St. Jude Parish, Peoria, Illinois 
"Our parish recognized our Holy Father's call to use new media to evangelize, communicate and connect with our parishioners. To pursue this more fully, we petitioned Lisa Hendey to share her expertise. Lisa didn't just talk about what was good to do, but also showed us why it was good and how to do it. She lives with a joy and a passion for the faith evident in how she speaks, which is warm and engaging. In the often intimidating world of the Internet, Lisa offered the authenticity we cherish and foster in our own parish relationships, and she inspired confidence to make our dreams a reality through new media. We truly see her as a pioneer of this new forum for sharing the Gospel, and feel blessed to have had her help in blazing trails in our own parish family." Jennifer H., Holy Spirit Church, Fresno, California
"As a panelist on a digital roundtable discussion on 'Parishes, New Media, and the New Evangelization,' Lisa Hendey was able to offer a unique perspective with practical suggestions for parishes to realistically embrace all forms of new media including websites and social networks. Lisa's many years of experience using digital platforms to do evangelization both as the creator and editor of CatholicMom.com and as the webmaster and consultant for her parish and diocese equip her with an expertise that any parish interested in learning new media would thoroughly enjoy." Jared Dees, Digital Publishing Specialist, Ave Maria Press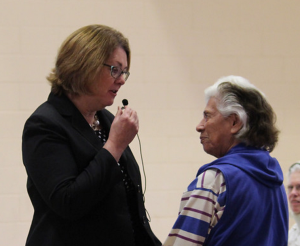 "Thank you so much for spending time with us via technology last week.  Our mothers' group felt like you could be sitting right next to us!  You connected with us and our vocations as mothers in such a very real way.  Your books have truly nurtured our hearts, minds, bodies, and souls!  They have inspired beautiful faith sharing in our group. The saints have been wonderful "companions on the journey"!  Their stories, wisdom, traditions, and scripture for the week seem to touch us exactly where we are at that given moment.  God is so good!  Thank you for sharing these holy men and women with us! We look forward to continuing in the books when we gather next fall.  All of the moms expressed their hope that you come visit us again next year! May God bless you and your family and the work He has chosen for you. Your light shines so freely ~ you are a walking, breathing, talking, writing, touching example of being Christ present in the world." Mary Kay, MACH 1 Women's Ministry, Fargo, ND
"Being the mother of three children, it is hard to imagine my path to sainthood when I feel like I lose it half the time amidst all the screaming and fighting. I loved hearing Lisa speak about how we are all on the path to sainthood, and that the women who have been canonized are exactly like the rest of us.  The little things we do in our lives matter, even if it may not seem like it at the time.  I want to remember in everything I do, I am making my own path to God.  I may see others around me and think, "Gee, if I could only be like her, I would be more saintly."  In reality, only God knows what is on her heart, and only God knows what is on my heart.  I can be a saint too. I just need to set my eyes on God in all that I do." Michelle, Ladies of Our Lady, Denver, CO
"Our Catholic moms group in Waco, Texas has been blessed by Lisa Hendey as we've read and studied two of her books. Not only have her books provided our mothers with guidance and support, but Lisa herself has generously spoken to our group twice via Skype to tell us more about the process and person behind her books. We have been truly enriched by Lisa's comments and answers to our questions, and she serves as an honest and down-to-earth role model for all Catholic mothers. Thank you Lisa!" Emily, Moms Group, Waco, TX
Just wanted to say that O Radiant Dawn was one of the best webinars I've listened to.
Lisa is a wealth of knowledge and information. Diane, Director of Faith Formation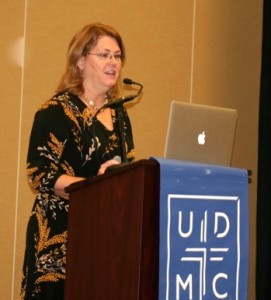 "I had the privilege to hear Lisa speak last Saturday at the Catholic Women Rejoice Conference in Portland, Oregon. Her talk on the saints that inspire her was wonderful. Her knowledge of the saints is inspiring. I especially enjoyed hearing her speak about the uncanonized saints in our lives and our personal journey to become a saint. Lisa is not only a very talented author and speaker but a sweet, genuine Catholic Mom like us all. I made a new friend and saint in my life last Saturday!" Toni, Catholic Women Rejoice, Portland, OR
"Lisa's enthusiastic faith shone through during her talk at the Catholic Women Rejoice! conference. When she said that we were 'saints in the making', we knew that she genuinely and fervently believed it." Rhonda, Catholic Women Rejoice, Portland, OR
"You should know three things about a presentation by Lisa Hendey. One, be prepared to learn. She'll cover a variety of new tools that'll get even the skeptic excited about social media. Two, she's got a great teaching and speaking style that'll help calm the fears of social media newbies. Three, she's super creative, always using social media tools in interesting ways. When she wanted to know what engagement means, she tapped her Twitter network and put together an great video."  ~ Andrew Nelson, multimedia reporter, Catholic Media Conference 2012
"Loved Lisa Hendey's CMC12 workshop "Building Engagement through Social Media." It was inspiring, empowering and fun! The Catholic Mom helped this Catholic editor get 'engaged'." Roxanne King, Editor, Denver Catholic Register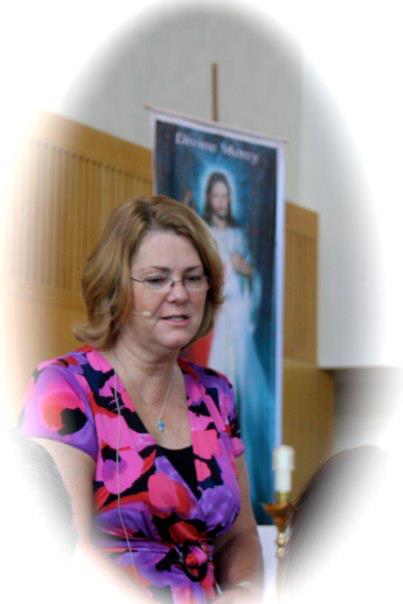 "Lisa, What a delight it was to have you at our homeschool conference! You have an amazing ability to make people at ease, even when talking about some tough subjects like our kids' safety online. Everyone at the conference had such glowing things to say about you. Thank you for sharing this time with us." ~Dianna, Kansas City Conference for Catholic Homeschoolers
"I walked into my first Lisa Hendey experience somewhat bored with the workshop offerings at a national conference.  Her title caught my attention.  It was on social media.  I thought hmmm…. this could be interesting.  I was wrong.  It not only could have been, but it was and I was sorry to see the time end.  I spoke to Lisa that day (in November of 2010) and began campaigning to get her to my diocese.  She embodies all that you would want in a speaker for your parish, deanery or diocese groups.  We recently had our Biennial convention in the Diocese of Rockford Illinois in April of 2012.  Lisa's sessions were everything I remembered and more.  She spoke on social media and then in a longer session on being a catholic woman in todays world. How to make it work.  How to stay faithful, How to keep your faith when all around you are loosing yours.  I can't wait to get to another session with  her.  I wish she were closer than California." Sherry Spinelli, President Aurora Deanery CCW 1st Vice President Rockford DCCW
"…and as a formal review of your speaking engagement, it was more than I ever imagined. You made both talks so personal to our group and got the audience involved in the subject. We received many positive comments on our evaluations and your books sold out at our Convention. One of our Priests that was present at your Social Media topic is hoping we will be open to using social media more. I have used a few examples of Saints when I speak to someone having a problem, and I tell them to Pray to a certain Saint and they appreciate the thoughtfulness." H, Diocesan Council of Catholic Women
"Lisa Hendey's talk with our women's group was very encouraging and supportive of our vocation as Ctholic Moms." Kay Kociuba, St. Paul's Parish WINGS group, Wellesley, MA
"Our annual church tea had all but died off in attendance until we made a change this year and invited a local speaker, Lisa Hendey.  Our tickets flew out the door until we sold out the event.  After her interactive talk and presentation, I heard over and over how nice the tea was and how much the ladies enjoyed Lisa's words on caring for ourselves.  Lisa is so organized and easy to work with, we would love to have her back to speak again!" Gail S., Anglican Church Women's Organization, Central California
"I enjoyed listening to Lisa very much. She has a way of bringing her audience right in and is so knowledgeable on her topics that it made me want to read more in her books. Thanks for coming to our Conference." Bev, President, Diocesan Council of Catholic Women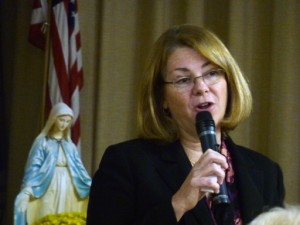 "It was such an honor for our Book Club in Tennessee to meet the author of our current book, Lisa Hendey, via Skype on the evening of our meeting.  Lisa was so real and down-to-earth with us, and it was such a pleasure to have her input on our discussions.  This book is a wonderful resource with a wealth of information that I can refer to time and time again.  It covers all the areas of my life that I can focus on to be the best wife and mother that I can be, heart, mind, body, and soul.  The personal stories of the author and all the contributors really spoke to me and helped me to feel that I am not alone on this journey."  Kimberly, Tennessee Mom's Group
"Lisa Hendey went to our parish St. Joachim Catholic Church here in Madera, California in January, 2010 and gave an inspiring talk about the Movie 13th Day the Miracles at Fatima. "Awe-inspiring" and "well prepared" are just but two of the many comments our parishioners of 350+ who watch the movie commented on her presentation.  Her mastery of the movie with her devotion to our Lady was really enriching to our parishioners.  Her enthusiasm and good-spirited personality was contagious that evening as she shared to us what the real devotion to our Lady is all about." Fr. Rafael Lavilla, St. Joachim's Parish, Madera, CA
"Nearly 100 club members and guests were informed and enriched by our speaker, Lisa Hendey as she shared personal and professional insights and testimony on her faith path that now includes establishing websites and writing books focused for Catholic moms but finding praise from many other groups. Lisa weaved an entertaining presentation with appropriate visuals. Club members also appreciated her message of embracing technology and that social media is a great tool, if used properly." Fresno Catholic & Professional Business Club – President Pat Ogle
"When our book club finished our Skype call with you last night, we all said, "Wow, she's a 'real' Mom."  We were unsure of what to expect from our call, but were pleased to have such an insightful discussion with you.  We appreciated your genuine understanding of our challenges in our vocation as mothers and welcomed your best practices.  Your book is written in a digestible format for busy moms and very relative to our day to day lives.  Thank you for writing this book!" Amy, Mom's Book Group
"Lisa Hendey was a guest speaker for our church's Women's Spring Tea.  She provided a very personal, contemporary and encouraging message to our group and all the comments that I received were very positive and thankful for her presentation.  She engaged the audience and gave us questions and time to ponder some of the important parts of her talk.  It was a delight to have her speak with us and she was very approachable and happy to talk with any of the women, after the formal presentation.  As an organizer for the event, she was wonderful to work with and a blessing in every way!!" Patty S., St. Columba's Church, Fresno, CA
"Thank you so much for Skyping with our group tonight! We had such a great time talking with you. Our ladies have really enjoyed your book this semester … Thank you again for taking the time out of your busy schedule to chat with our little group here in Texas!" Megan, St. Jerome Catholic Church, Waco, TX
"Thank you for inspiring me to start a social networking site for our Young Adult Ministry.  You had so many wonderful ideas & sites to help us expand and share our faith with other young Catholic adults!"
"Lisa was very well organized with her visuals.  She was a pleasure to listen to and provided great information."
"Very good pace, to the point, good multi-media, timely – awesome!"
"Our parish needs her to come speak to the Newman Club.  Excellent quality and delivery of presentation."
Lisa's speaking on a variety of faith, family, new media, personal productivity, technology and evangelization topics.
For a complete speaker's package, including a letter from Bishop Armando X. Ochoa and audio samples, contact Lisa at lisahendey@gmail.com.
Lisa Hendey speaking at Catholic Formation and Leadership Conference – Sponsored by the Archdiocese of San Antonio – October 12-13, 2012 – San Antonio, TX
Reel to Reel's Coverage of the Diocese of Springfield Catholic Women's Conference, April 26, 2014