Synopsis:
In the inspiring true-life drama THE MIRACLE SEASON, one girl's story leads her team and town to victory. In Iowa, the girls' volleyball team, from Iowa City West High School, brings their community together, and Caroline Found – or "Line," as she nicknamed herself – is the inspiration for their 2011 season. The 17-year-old Line (DANIKA YAROSH) is vivacious and life-loving, compassionate and caring, making sure kids don't eat alone in the lunchroom and that everyone gives their all at volleyball games. Line is her team's captain, helping coach Kathy "Coach Brez" Bresnahan (Oscar winner HELEN HUNT) rally everyone together to repeat their championship win from 2010. Then, in August 2011, as her senior year is about to begin, Line is in an accident that leaves her team, her school, and her father, Ernie (Oscar winner WILLIAM HURT), heartbroken by their loss. Two weeks later, Ellyn, Line's mother, succumbs to cancer and the grief for all seems too much to handle. But when the team starts to wonder if they can move forward, Ernie's strength and faith spur them on, and Caroline's best friend, Kelley Fliehler (ERIN MORIARTY), won't let down the girl she loved since childhood. Kelley encourages her classmates, Coach Brez, and even the opponents the City West team faces across the net to "Live Like Line" – to never back down, never stop smiling, and always give 100 percent, even when the odds seem impossible. By the time their miracle season wraps up, the Iowa City Trojans help Ernie, Coach Brez, and the whole community find the strength and spirit to live like Line, truly making it THE MIRACLE SEASON.
"Live Like Line!"
You may see the trailer for The Miracle Season, opening nationwide this weekend, and assume that this is simply a sports movie. For me, the film transcends that entertaining genre (who doesn't love a good "Rocky" story?) and moves into a primer for life that can be beneficial for any person coping with life's greatest challenges. Certainly, high school volleyball–and indeed a real-life Cinderella story are behind this film. But with today's world challenging our students to cope with and overcome unthinkable challenges, the life lessons of this movie can lead to important conversations in our classrooms and homes.
An inspirational film about tragedy #TheMiracleSeason looks at triumph, faith, and the resiliency of the human spirit. @TweetLD #LiveLikeLine
Click To Tweet
Helen Hunt (who incidentally was born the same day as I was!) is masterful in her portrayal of Coach Brez, who must dig deep to lead her team out of the depths of grief. What may be confused as a sports goal is instead her way of helping form her team for their futures in the way she knows best, through athletics. Indeed in my mind, the women of Iowa City West High School "Lived Like Line" the moment they chose to step back onto the court and pay tribute to their fallen teammate. What they accomplished on the scoreboard was secondary in importance to simply choosing to embrace their lives as a tribute to the spirit of their beloved friend. Line's way of life is infectious. There's something for each of us to learn in striving to live as she did.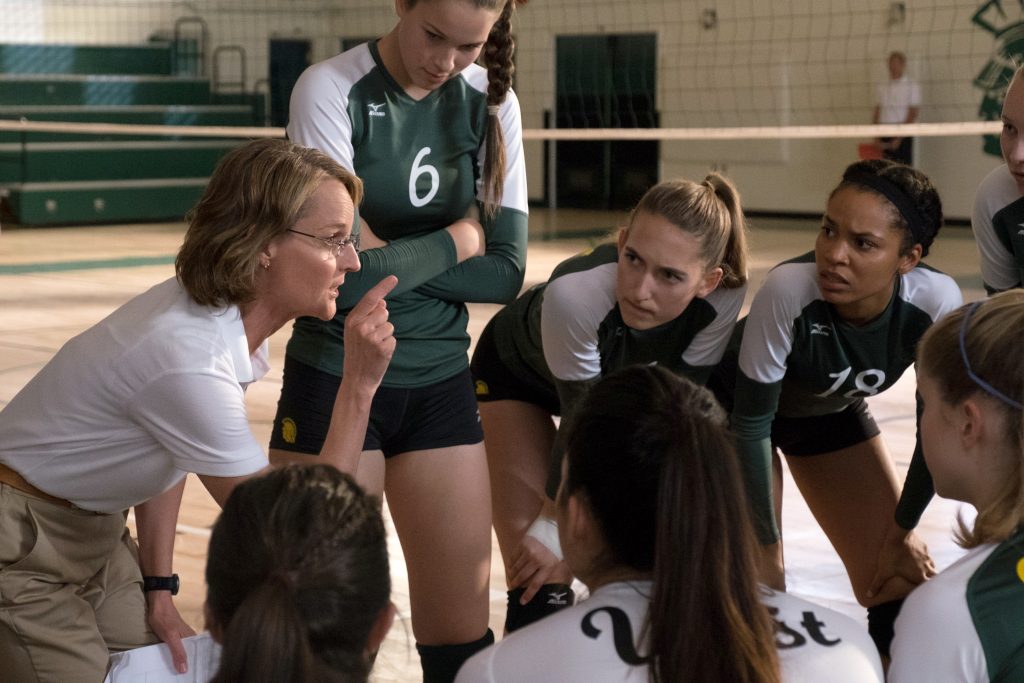 From tragedy to triumph, The Miracle Season coaches us into living with power, positivity and spirit. With excellent performances, a compelling true story and a reminder to "Live Like Line" by giving our hearts fully to the world around us, this is one to watch and share this weekend.