Does life–even its ups and downs–prepare each of us to be something greater than we believe we're capable of being? The 15:17 to Paris shows us the stories behind an unlikely trio of courageous young men's call to action and all of the ingredients that prepared them to respond instantaneously with courage and compassion. Heroic!
It will be interesting to hear what movie critics nationwide have to say about Clint Eastwood's latest directorial outing, The 15:17 to Paris, as it opens in theaters nationwide this weekend.
Why?
Because this isn't your usual movie. I've been to some terrific "ripped from the headlines" films in the past few years. Two Mark Wahlberg movies–Patriot's Day and Deepwater Horizon–come immediately to mind when I think back on boxoffice smashes that effectively relay the story of "real life" events.
But The 15:17 to Paris, based upon the book by the same name, is altogether different from other films of this genre. Here, Eastwood made the gutsy decision to cast the three real-life heroes at the center of this story as its stars. Having had the opportunity to chat on the phone with heroes Spencer Stone, Alek Skarlatos, and Anthony Sadler, it's easy for me to see how Mr. Eastwood came to his decision. If the goal of this film is to portray not only a few actual moments of terrifyingly courageous action that took place on the high-speed train that day in 2015 but also to unlock what prepared these heroes to act as they did, then what finer choice than to invite them to be at the heart of telling their story?
The real parts of @1517toParis are what make it best! #1517toParis
Click To Tweet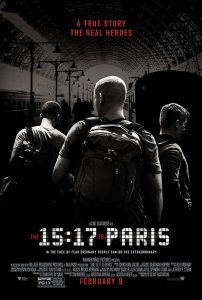 Most will enter theaters looking to see the quick action that the trio undertook in not only stopping a deadly act of terrorism but also in saving the life of a man on the edge of death. Those scenes are certainly classic. The filming on the exact type of train (in high-speed motion!) where the action really took place and the casting of several of the folks who were actually on board that day combine to create heart racing imagery.
But what I personally most enjoyed about this film was coming to know Spencer, Alek and Anthony in the moments before they get on that very fast train. Our telephone conversation gave me an insight into their easy chemistry and their lifelong camaraderie. Seeing the film helped me to know "the rest of the story".
The 15:17 to Paris is in large part the telling of how three ordinary young men grew up to be prepared for that singular moment in time. In the early scenes, we meet the trio as average kids. Considered troublemakers at their Christian school, the boys encounter the sorts of everyday issues moms of sons will understand and giggle at. I loved "meeting" the strong mothers (portrayed well by Judy Greer and Jenna Fischer) who never stop advocating for their boys. They, too, are part of the "real" story of what helped three regular guys be ready for the call to heroism when it came along.
While some will likely argue with Clint Eastwood's directorial choice to cast untested actors to portray themselves, I actually think that decision lies at the heart of what's most important about this film. I see movies not only for entertainment, but also to learn and to form myself. There are two special moments in the film when we enter Spencer Stone's inner life and stand alongside him as he prays the words often attributed to Saint Francis of Assisi, "Make me an instrument of your peace…" Knowing what Spencer had encountered along his unlikely path to heroism–the trials, the disappointments, and the shortcomings–helped me to put into perspective how it is a lifetime of choices, decisions, and relationships that prepare and motivate us to be all that God is calling each of us to be.
Learning this not only from Spencer but also from Alek and Anthony and all of the many heroes and survivors of The 15:17 to Paris reminds us that any of us could find ourselves in that moment when we are called to rise above what we feel capable of accomplishing. The "real"–the fact that it's not actors but the just everyday people–  gives me hope that I too am called to be something greater, someone greater than what I can ever understand. Hopefully I'll be brave enough to say, "Yes" as Spencer, Alek, and Anthony have done.
"The 15:17 to Paris" (Warner Bros.) earned an A-III (adults) classification from Catholic News Service and is rated  PG-13 by Motion Picture Association of America  — parents strongly cautioned. Some material may be inappropriate for children under 13.