Parents come in all shapes and sizes, as do families. The new film WAVES, written and directed by Trey Edward Shults, brings us into the home of one family whose lives appear by outside standards to be privileged. Amidst a few bad choices, this intact family falls prey to societal pressure and a devastating loss. Tony and Grammy-winning actor Renée Elise Goldsberry portrays Catharine, a mother who must choose in the midst of heart-breaking pain to keep her family together.
I recently had the opportunity to converse with Goldsberry about the film and her perspective on family life. Watching WAVES, I was struck by the reminder that even in our desires to give our children the best possible lives, we sometimes push too hard. This is certainly the case with Ronald (Sterling K. Brown), who wants his son to have every advantage. Although she is not the biological parent of Emily (Taylor Russell) and Tyler (Kelvin Harrison Jr.), Catharine rises to survive and shepherd her family in a seemingly hopeless set of circumstances.
Our conversation, shared here, has been lightly edited for clarity. LMH
Synopsis:
Set against the vibrant landscape of South Florida, and featuring an astonishing ensemble of award-winning actors and breakouts alike, Waves traces the epic emotional journey of a suburban African-American family— led by a well-intentioned but domineering father—as they navigate love, forgiveness and coming together in the aftermath of a loss. From acclaimed director Trey Edward Shults, Waves is a heartrending story about the universal capacity for compassion and growth even in the darkest of times.
Hi Renee. Thank you so much. I'm really grateful for your time today. Congratulations on the film. It's amazing and I can't wait to recommend it! First off, your character Catharine Williams – wow! So, in such an intense relationship and marriage, Catharine really, although she doesn't physically give birth to the children herself, seems to be kind of the true parent to both Tyler and Emily. Can you say a little bit about your character and how she is in relationship with her two children?
I love the way you ask that. It's unique. I'm often asked about Catharine being the stepmom and the surprise of finding out it later in the film that she's a stepmom, and I always feel a bit miffed when I respond. But you asked me, she's not the biological mother, but she seems to be the true parent. And to me that's the most kind of, I think, astute, sensitive way to look at it. I feel that there are many roads to motherhood and one of them is actually having the child through your own body. And so, I felt as the character and I feel just thinking about the character that there is no distinction between her love for the children and the responsibility that she takes for the children. I actually think that really is a definition of the role that you play in a family.
It's about the love and the responsibilities that you're willing to take. I love the journey of this character very much because I think she finds her way to this family. At the time they're a family in need. Their biological mother dies when the children are very young, and I felt that Catharine is a woman who was not able to have children or could but did not have children. Then she kind of gets this package deal with these young children and this man who need her very much. I think it's an answer to a prayer. Then a series of really terrible events happen and she has to make a choice about who she's going to be in this family.
I think because she is the true parent, she decides to continue with that responsibility because the love doesn't go anywhere, even though it's painful. In the end of the movie, she is the one that you see visiting the young son in jail. I mean, not to give any spoiler alerts, but I love the fact that it is undetectable that this is not the biological parent until the end of this film because I believe her love is no different.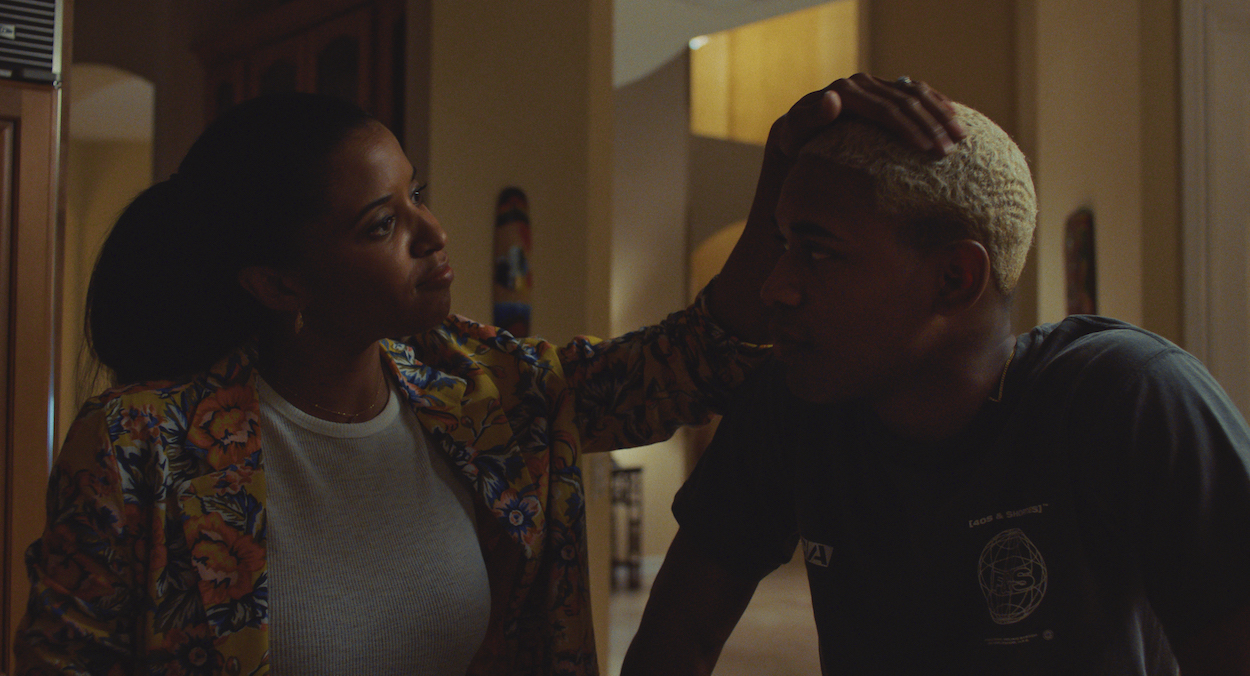 Absolutely. So, this is a film of hope amidst amazing brokenness that's so challenging. Yet we have this message of redemption and forgiveness. How do you hope, especially coming into the holiday season, that families that may have been separated from one another for whatever reason can find in the midst of all the drama here some modicum of hope that they can apply to their own families?
I think we desperately need examples of people that keep going in spite of terrible things happening. What we believe is that we are always worthy of redemption no matter what we do. I mean that's what I believe as a Christian. That's what we believe and yet we don't necessarily give ourselves that when we do things wrong, feel that we're worthy of redemption.
What I love about this film is you see a family that fails pretty terribly. They're very, very broken and yet they keep going and they continue to be there for each other. They have to figure out how to forgive themselves and to forgive each other. That's the way forward, and to me that is what we're all called to do. That is the example that this movie affords us and that that's why it's worth going to see a movie in the holiday season that will take you through some emotions.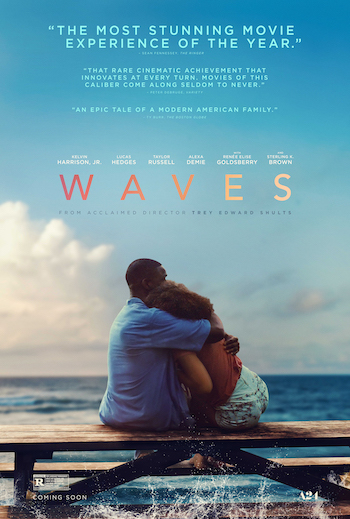 I was dizzied by the opening sequences and I really feel that Trey Edward Shults' direction is so innovative here. In watching the film, I felt that the roles of both the cinematography and the music were almost like additional cast members in this film.
I totally agree with you.
What was it like to work with Trey?
Oh, my goodness. He's so unassuming. His reputation proceeded him. I knew that I had not at the time I was cast, seen his first film, but everybody that I know was just kind of in love with him as a filmmaker. So it was really compelling to have the opportunity to meet him and work with him. Then he's just a regular kid. He's very young. He's from Texas and I think he spends a lot of his time in Florida. He's just a nerd in love with the medium of telling stories through film, but other than that, he's just a very regular guy who is really unphased by anything pretentious at all. Being on the set with him, I was unaware of the genius that he was capturing behind the camera. By that I don't mean just the performances, I mean they just kind of disappear in the room and so you can experience it as an actor.
You can really experience the moment. They just kind of let you do the scene a few times and Trey and his DP are figuring out kind of how they're capturing it and then they move on. That's it, which is just unheard of in filmmaking. They were just that confident about what they wanted, what they needed, and that prepared and that talented. When I watched the movie, I just was blown away because it was just so easy to shoot. I couldn't tell what they were doing behind that camera. Even knowing so many of the songs that he wanted for the film, I think when you see it all together, it really takes you through the emotions of the characters. The children, the two kids that play my children in the movie, everything is in service to helping the audience go through the experiences and the emotions that their characters are feeling. The music, the picture, the words, everything that you see is really serving their emotional journey.
Catch @LisaHendey conversation with @A24 @WAVESMovie star @ReneeGoldsberry #WAVES talking film, family, faith, reconciliation and of course a bit of @HamiltonMusical
Click To Tweet
It was just really phenomenal. I can't imagine how you felt. I want to ask about the marriage and your relationship with the character played by Sterling. There are choices that are made in any marriage and your character makes a choice. How do you feel that she kind of came to the choices that she made? Also, what was it like to work with Sterling K. Brown?
I am not going to lie. When I heard about the opportunity to be in this film, the thing that made me pack my bags and get down to Florida was the opportunity to work with Sterling K. Brown. I'm a huge fan. I've always felt just kind of seeing him receive awards and just hearing about him in the world that he would just be a really wonderful person to know. I was right about that. He's a wonderful human being and I was excited about the opportunity to play opposite him in a story like this because it's a very dramatic, a lot of landmines are there in the story for the parents.
To get to play those moments with an actor of his caliber was really just a dream come true for me. And yes, it's not like we were skipping down a beach holding hands and having love scenes. That's not what the experience is. The experience is a painful journey and it's a real journey actually. I think grieving, being compatible, grieving is something that people don't know to ask of their partner.
When you meet and fall in love, you don't think am I compatible with you in terms of "How I will survive the most challenging things that could happen to this family?" I mean you just have to figure that out when you're in that situation. So you see these two people thinking they are tremendously successful in parenting these two beautiful children and what you see as the film continues is some huge holes in their game. Then you have to see them suffer pretty terrible consequences. They have different parenting styles and there's I think a lot of blame and pain associated with this marriage that they have to find a way to overcome. I think that is something that a lot of couples have to deal with. I think it feels as though at the end of this film they are going to continue the journey of figuring out how to love each other and forgive each other and forgive themselves. That's another example that I think we need to see.
I love that at the end of the film that you almost sense that there could be the next chapter of this story and that it could continue. I can't let you get off without asking you about, I know I'm not supposed to ask about her, but Angelica Schuyler… I just have to ask because I've sung back up with you many times here many times in my home while listening to the Hamilton soundtrack!
Oh, you can ask about Angelica!
Congratulations on that! I mean I … Wow! It's such an honor to talk with you and I guess I want to ask how playing Angelica and how being in such a strong role on stage prepares you to take on a role like Catharine?
Well, one thing that's being able to be a part of Hamilton and play Angelica is spoiling. I was spoiled to death because it's such a wonderful character and such a wonderful piece of art and mostly spoiled because the reception is so unique. I think we feel as actors that everything we do is that groundbreaking and not always does the world agree with you, so that's kind of a really unique experience. But it was challenging to be a part of it, to bring that character to life and to be a part of it only because it really felt like holding the Olympic torch for a long time. You know?
It's an obnoxious thing to say that it was challenging to do, but it was because it felt like an opportunity of a lifetime and you just wanted to wake up every day and be worthy of it. That's something you have to learn to tell yourself every single day, "I'm worthy of this. I can keep going. I can do this. I can keep going." It's a good problem to have, but it definitely takes some emotional stamina. I think I look across the board of my castmates and I'm really proud that we pulled it off and we stayed loving and supportive of each other. I don't think we ever lost perspective on how grateful we should be to have been a part of that at that time. That helps me because I don't know that there is a challenge now that I couldn't use that knowledge to overcome.
WAVES opens in theaters nationwide today and is rated R for language throughout, drug and alcohol use, some sexual content and brief violence-all involving teens.