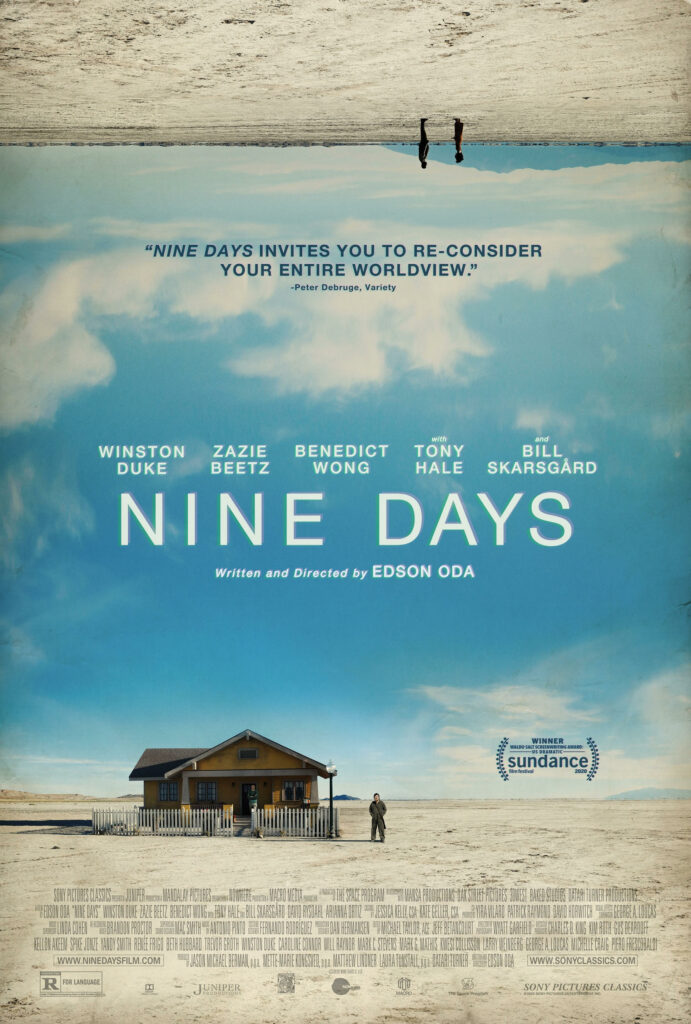 Note: Nine Days contains elements related to the theme of suicide. The National Suicide Prevention Lifeline is a United States-based suicide prevention network of over 160 crisis centers that provides 24/7 service via a toll-free hotline with the number 1-800-273-8255. It is available to anyone in a suicidal crisis or emotional distress.
You may have noticed that it's been a bit quiet lately around here. My silence has been intentional, purposeful, and–in my mind–fruitful. As I continue to grieve my mother's passing and cope with my father's health declines, I've been focusing on my own spiritual, physical and mental well-being. I'll share more about that soon, but I offer this preface because it directly sets a context for my response to the new Sony Pictures release Nine Days. Now playing in Los Angeles and New York and opening nationwide on August 6, Nine Days is not the type of noisy summer blockbuster that will grab headlines. But it is exactly the type of film we need for this moment in time when so many of us are grappling with issues of life, death, and the meaning of our existence. While in no way a "religious" film, I found Nine Days to be one of the most spiritually compelling and thought-provoking stories I've seen in quite some time.
Synopsis:
Will (Winston Duke) spends his days in a remote outpost watching the live Point of View (POV) on TV's of people going about their lives, until one subject perishes, leaving a vacancy for a new life on earth. Soon, several candidates — unborn souls — arrive at Will's to undergo tests determining their fitness, facing oblivion when they are deemed unsuitable. But Will soon faces his own existential challenge in the form of free-spirited Emma (Zazie Beetz), a candidate who is not like the others, forcing him to turn within and reckon with his own tumultuous past. Fueled by unexpected power, he discovers a bold new path forward in his own life. Making his feature-film debut after a series of highly acclaimed and award-winning short films and music videos, Japanese Brazilian director Edson Oda delivers a heartfelt and meditative vision of human souls in limbo, aching to be born against unimaginable odds, yet hindered by forces beyond their will.

Source: Sony Pictures
"You are being considered for the amazing opportunity… of life. If you're selected, you will have the opportunity to be born in a fruitful environment where you can grow, develop and accomplish…"

Will, Nine Days
These words from Will, sublimely portrayed by Winston Duke, as he sits behind a desk and speaks them to nine individual candidates for life, caught in my heart the first time I heard them. I paused, rewound my screener, and let them roll across my bruised heart. I've recently been studying intently many books and resources on living a healthy, purposeful life. Among them is an excellent Ted Ex talk by Robert Waldinger that looks at the question, "What makes a good life?" The death of a loved one often prompts this type of introspection, but so for me does watching a film like Nine Days.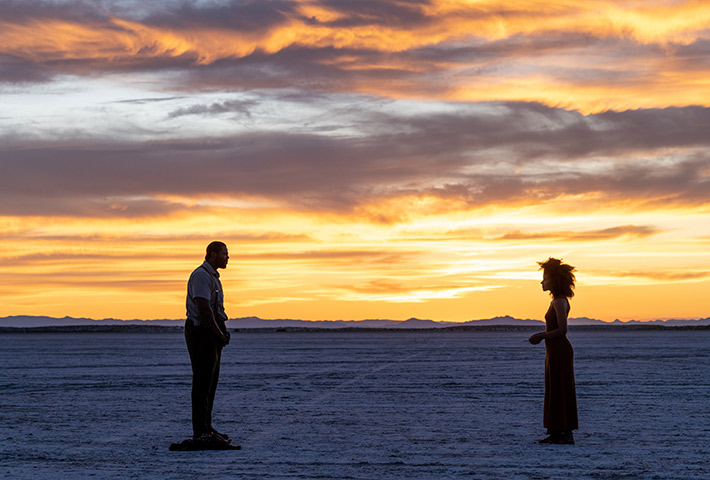 While there is no mention of "God" or a higher power at play, Will makes it clear to the varied souls he interviews that he is but a "cog" in the process that will determine which of them ultimately earns the opportunity to be born and to live. In that process, which plays out over nine days, we come to know not only these men and women and their traits, interests, and passions, but also Will. He is seeking a replacement for Amanda, whose life has precipitously ended and has left Will not only needing to find a candidate who can stand up to life in all of its joyrs and challenges but also facing his own existential crisis. We come to know Amanda and her journey through the aging television and VCR tapes that offer Will a look at her moments (and those of other lives he watches) from her point of view as she ages and matures. Her life's end, which comes too quickly, is the beginning of not only Will's search process but also his own interior expedition.
In her review of @SonyClassics #NineDays @LisaHendey calls it spiritually compelling, thought-provoking, and a potent reminder to be grateful for the gift of life and to live it to the fullest.
Click To Tweet
Nine Days appeals to the side of me that loves reality television shows such as Big Brother and Survivor. But more significantly, it reaches into the part of my brain that wants to carefully consider what I am doing with my own "amazing opportunity of life". I feel compelled to mention the themes of suicide present in the film that may be a trigger for some viewers. Viewers of faith will likely connect with the sacramental imagery connected with the number nine and with themes relevant to the dignity of every human life. I found myself grieving several of those who were not selected, even as Will and his assistant Kyo (Benedict Wong) made every effort to offer rejected candidates their pick of a favorite memory they've witnessed while taking part in the process and bringing that small moment to life for them.
Beautifully written and directed by Edson Oda with tremendous music by Antonio Pinto, Nine Days is a potent reminder to be grateful for the gift of life and to live it to the fullest.
Nine Days is rated R for language and opens nationwide on August 6