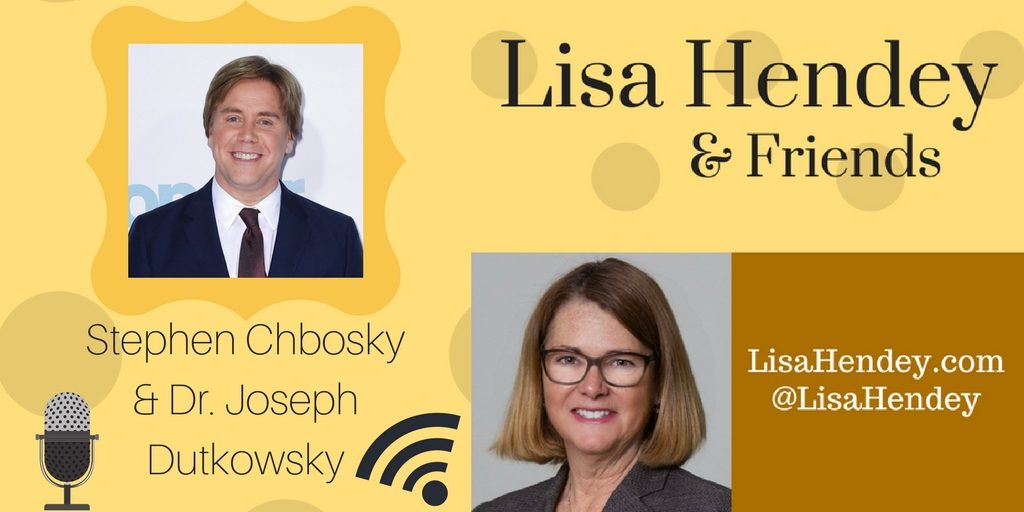 It's time for a new Lisa Hendey & Friends podcast!
Our guests this week are Stephen Chbosky, director of Wonder (coming to DVD and digital release this week) and Dr. Joseph Dutkowsky, an orthopaedic surgeon and the author of Perfectly Human. Sharing both of these interviews together reminds me of the truth that each of us is "wonderfully made" by a God who loves us just as we've been created!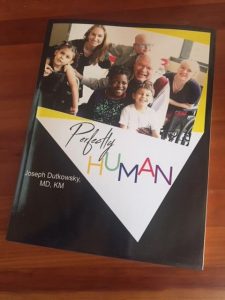 Dr. Dutkowsky, or "Dr. D" as his patients call him, shared the following insights about his experience of writing this book:
I am an orthopaedic surgeon who has worked in the front lines for over thirty years in the care and advocacy for persons with disabilities and their families. In 2011 I had the honor of serving as President of the American Academy for Cerebral Palsy and Developmental Medicine. I participated in the five year start up of the Weinberg Family Cerebral Palsy Center at Columbia University in New York City. As a pioneer in the care of adults with childhood onset disabilities like cerebral palsy and Down syndrome, I held the first adult cerebral palsy clinics in New York. Currently, I continue teaching and research at Columbia and practice in rural Cooperstown, New York. It was an immense pleasure to work with the New York City Ballet to set up movement workshops for children and adults with disabilities which continue to this day. Between Upworthy and YouTube over six million people have viewed a five minute video of those workshops which have been reproduced in other cities nationally and internationally.

Perfectly Human is my witness to 30+ years of caring for and learning from persons with disabilities, their families, and those on the margins of society. I wrote it to tell the stories of those whom society too often ignores but in fact are often the greatest beacons of the glory of God. The book developed into four layers, two intentional, two unintentional. The foundation of the book came from the New York Times article in which I was described as a doctor of both faith and science. In the book I present that faith and science form a natural and even elemental cohesion. In fact the two are inseparable and this is best witnessed in the practice of medicine. The unnatural attempt to separate and even isolate the two in the last century has led to many of the ethical crises we live with in our day. The second intentional theme revolves around he issues of perfection/imperfection. We are inundated in our commercial society with the message that if you just had the right job, the right house, the right clothes, a big raise, etc… life would be perfect and you would be happy. But that's a lie and the result is that we are a society drowning in debt, anxiety, depression, and stress driving people to dependency, anger, and narcissism. I have been blessed in that my patients with disabilities have taught me how to love myself despite and even sometimes because of my imperfections which has freed me to feel the love of God. Human perfection is a trap that leads to personal destruction. Allowing oneself to be perfectly human frees one from self or societally imposed shackles opening one to growth through the love of God.

Two unintentional layers came out of test reader reviews. The first is that in the book patients and doctors are presented with the reality that neither have to settle for the increasingly sterile, dehumanizing behavior that today is being called healthcare. The relationship between doctor and patient remains one of the most powerful relationships between humans and no outside force has any right to deny it's full fruit. Doctors can allow themselves to really care for the persons in their care and patients don't have to settle for technical almost robotic medical diagnosis and treatment. The second unintentional layer was discovered on the Mother's Day after my wife, Karen, died when I realized I had written our 36 year love story into the pages of the book. It was strictly subliminal maybe because I wrote it during the last six months of her life. Interestingly, the male test readers missed it and ALL the female test readers jumped on it. Whether they had ever met Karen or not, all the female test readers insisted that I write more of Karen in the story. With a very heavy heart I wrote additional Karen stories and wove them into the narrative. They were 100% right; the result took the book to a while new level. Karen's presence "softened" some of the medical feel to the book and made it much more human. It was a breakthrough in the writing.

God doesn't make mistakes. Whether one has a disability or is temporarily able-bodied God has a master plan for all His creation. There is no separate cross for cerebral palsy. There is no separate cross for Down syndrome. There is no separate cross for persons with intellectual, emotional, or physical disabilities. The ground is never more level than at the foot of the cross. I have been privileged beyond belief to have been taken to that level ground repeatedly by my patients with disabilities to feel the love of God.

In many ways this book just states what we all know to be true. Hopefully, through the stories of the persons I've cared for and who have taught me many lessons I have the authenticity to tell the truth in our current culture which tries to hide it. I want people to discover or uncover the wonder of life surrounding all of us even in some of our most trying times. Be not afraid of joy. Be not afraid of hope. Be not afraid of truth!
New Lisa Hendey & Friends podcast features @StephenChbosky of the film @WondertheMovie and Dr. Joseph Dutkowsky, an orthopedic surgeon with a heart of gold! - Tune in @BreadboxMedia or at
Click To Tweet
I'm happy to share that you can now subscribe to this show on iTunes – simply search for Lisa Hendey & Friends to stay up to date with all of our latest episodes.
This Week's Show:
For More Information:
Thanks for listening! Please consider sharing, bookmark my page for future episodes and subscribe at iTunes to catch every show.