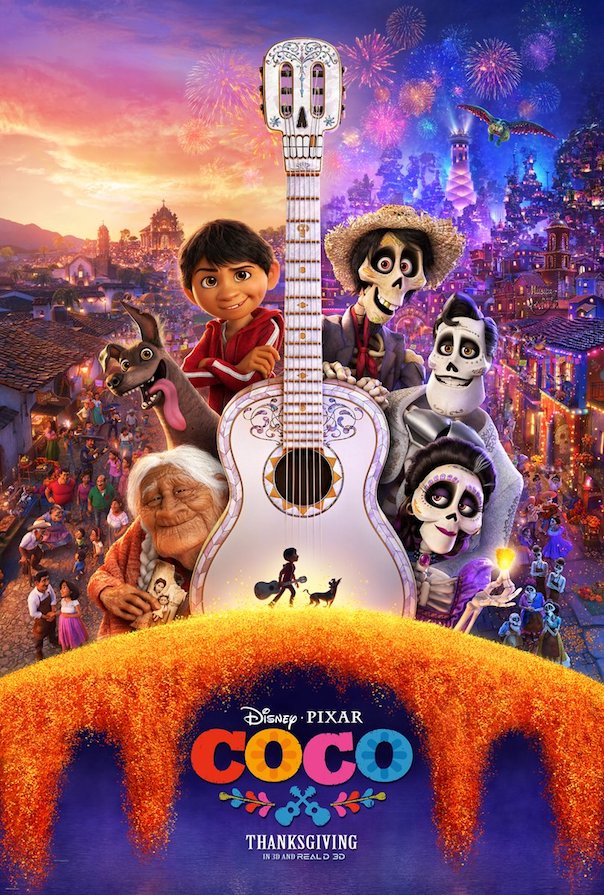 In anticipation of the nationwide release of Disney/Pixar's Coco this week, I wanted to dive more deeply into the connection of an important component of the film, Día de los Muertos, to our Catholic practice of remembering and praying for deceased loved ones. To be clear, Coco is NOT a "Catholic movie". To better understand why I say this, I recommend that you take a look at two excellent reviews by Catholic critics Steven D. Greydanus and John Mulderig (links below). Tomorrow, in my review, I'll share how this animated musical bonanza has impacted my heart. I'll also say a few words on faith-oriented themes in what promises to be the next animated blockbuster. Today, I'd like to focus on our souls and in particular the celebration of Día de los Muertos.
I found this description from Life Teen's Stephanie Espinoza helpful:
On November 1st and 2nd, people throughout Mexico, as well as some other Latin American countries, celebrate Día de los Muertos, or Day of the Dead. More than just a "Mexican Halloween," this holiday traces back to pre-Hispanic times, in which the ancient peoples (like the Mayan, Olmec, Mexicas, etc.) would regularly honor the lives of their deceased by setting aside times of celebration and ritual, usually coinciding with the start of the harvest season. During the period of colonization of Mexico, Christian missionaries saw this as a connection to the celebrations of All Saints and All Souls, and used these long-held traditions as opportunities to evangelize.
To better understand the correlation between Día de los Muertos, an important component of Coco, and Catholic traditions, I reached out to my friend Rosie. Rose M. Hernandez is Director of the Office of Formation and Evangelization for the Diocese of Fresno. During our conversation about Día de los Muertos, Rose shared, "I am also proud that I was born and raised in East Los Angeles, which is where I was taught this amazing tradition."
Día de los Muertos is celebrated on October 31, November 1 and 2, making it's connection to our Catholic celebrations of All Saints Day and All Souls Day seem clear. However, Día de los Muertos is not simply a Mexican version of these liturgical celebrations. With its own traditions, recipes and symbolism, Día de los Muertos and its role in Coco offer our families some terrific lessons on faithfully remembering our deceased family and friends. Rose's remarks, shared below, are not intended to be a theological primer, but rather the personal insights of a gifted missionary disciple who is actively involved in serving the Church.
Q: Please give a quick overview of Día de los Muertos and how it relates to All Souls Day.
RH: To my understanding, Día de los Muertos relates to All Souls' Day because it is the day we honor our dearly departed and remember them. Not only that, but the ancient belief was that our loved ones visited us on that night, and we could become one with them in spirit. their presence, while felt usually in memory, becomes more real on All Souls' Day. For this reason, on our altars we place symbols of remembrance and sometimes plates of their favorite food or drink, so that our loved ones will feel welcome and know that they are remembered with love.
What's the connection between @PixarCoco and #AllSoulsDay? @LisaHendey
Click To Tweet
Q: Is remembering and placing an offering in memory of a loved departed family member similar to praying for the repose of their soul?
RH: It is a little different; we believe they are already in paradise, and for the one night, they are especially remembered and honored. The joyful aspect of the images of the skeletons (calaveras) show that we believe in celebrating both their life and that they are honored in heaven. The offerings (ofrendas) show that they are remembered, and symbolically convey the hope that they will recognize the offerings of symbols of their lives or food, and that will draw them to us to visit.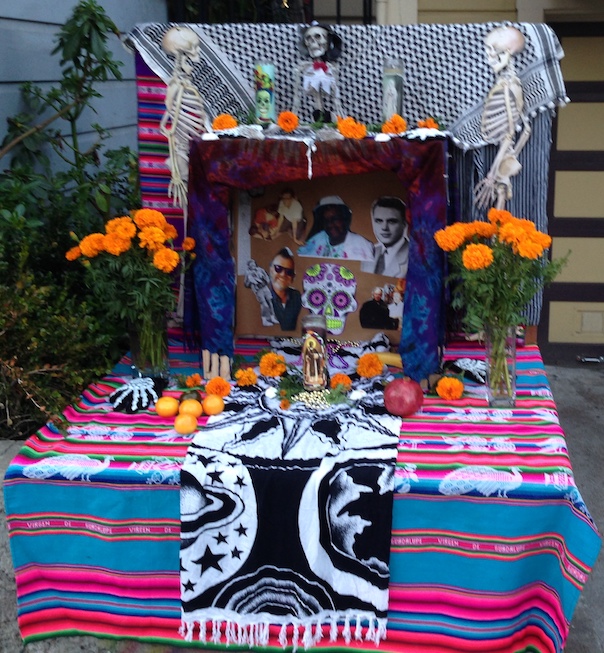 Q: In the movie Coco, deceased family members remain in "the land of the dead" until they are no longer remembered. Is this a facet of Día de los Muertos and how does this relate to heaven and purgatory? 
RH: Interesting…and kind of related…The need to keep the memory of our ancestors alive is very important. We cannot forget who they are and where they came from because they are a part of us. For example, on Día de los Muertos I especially remember the lives of my godmother and my aunt, who were very much a part of my upbringing. They were with me in my childhood and taught me so much that on my altar, I honor them in a special way because they are a part of me and who I am today. I also honor my best friend's father, who was not only a part of my life in that connection, but who also served with me in ministry in the parish. He taught me so much about giving of my time and self for others by his example. He is very much in my memory and taught me much in my early years of ministry; he is very special to me. He has a prominent space in my Altar de los Muertos in my home.
I was taught this custom and practice in a very symbolic way. I never had a connection to purgatory in this; my belief is that my loved ones are in paradise already and that as long as we remember them, they are honored. I never was taught this connection to purgatory, but different areas of Latin America may have different beliefs on this level. I was never taught a connection, myself.
Q: How do you feel that remembering and praying for our deceased family members continues to bless our living family and friends?
RH: I believe that in remembering our beloved deceased, we are not just remembering them, but acknowledging that they are very much a part of our lives still. Another example is that of my previous pastor, who passed away suddenly while we were still working together. We had become very good friends, and his passing was a shock that shook my faith to its very core. But in remembering him this month, and with a special place on my altar, I feel like I not only honor him, but I acknowledge the great role he played in my life and that his legacy continues through me and my friends who all worked with and loved him. We continue to follow in his footsteps. Honoring him is a reminder to me of what my ultimate goal is in my ministry and my relationship with God….to serve others with love and humility.
Q: What do you hope non-Hispanic viewers who see Coco can learn about this important cultural celebration?
RH: I hope they see that the traditional calaveras are much more than just a cool costume, but a symbolism that is at the core of our belief: that when we die, we are God's and although we on earth are very sad, that there is a joy to joining God in the Kingdom. Death is not something to fear. If we have lived a good life, we will be with God, and will be remembered fondly by our descendants. This is a tradition that goes back to ancient cultures in Mexico and Latin America. I am frustrated by those who think it is "cool" to paint their faces as skeletons without understanding at least a little bit of why we do it and what it means to us.
Q: Are there any additional thoughts you would like to share on this topic?
RH: I think just overall that our traditions are very special, and like any other cultural group, we are happy that people are interested and wanting to learn more, but sad when they are misused. Not only with this holiday and tradition, I would ask that people who wish to learn more would seek out the truths to the tradition, and if they wish to celebrate it, then we are happy. Ask questions, do your research, and learn what you can so you can understand where it comes from and what it means to the people before you adopt the look or dress up for a Halloween. That goes for any cultural experience.
Tomorrow, I will share my review of Coco. Until then, you may enjoy the following resources: