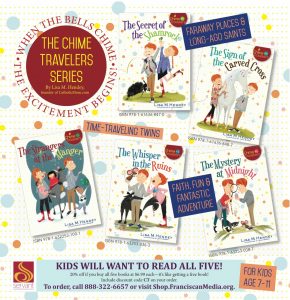 I was excited to hear from my friends at Franciscan Media this week that they are offering a weeklong special on my Chime Travelers series of children's fiction. Now through February 3, you'll save 25% off the series when you shop here using promo code CATHOLICSCHOOLS2018.
This is near and dear to my heart. Although my own boys are now graduated and we're "empty nesters", Catholic schools have figured largely in my family's life. I remember so fondly celebrating Catholic Schools Week as a way to thank our committed teachers and staff every year. In fact, my own experience at St. Barbara's School in Santa Ana, California and my boys' education at St. Anthony's School in Fresno figure largely into many of the storylines in Chime Travelers. For us, so much of our "learning" as individuals and as a family took place not only in the classrooms but also on the playing fields, at Church and in friendships with other school families. I have the amazing teachers at both of these schools to thank not only for our academic preparation but also for the development and care of our spiritual formation.
Celebrate #CatholicSchoolsWeek with 25% off #ChimeTravelers children's books at…
Click To Tweet
If you'd like to thank a Catholic school near you this week, please consider a gift of Chime Travelers for your favorite classroom or school library. Thanks!
Order Chime Travelers books here using promo code CATHOLICSCHOOLS2018 to receive 20% off your purchase.