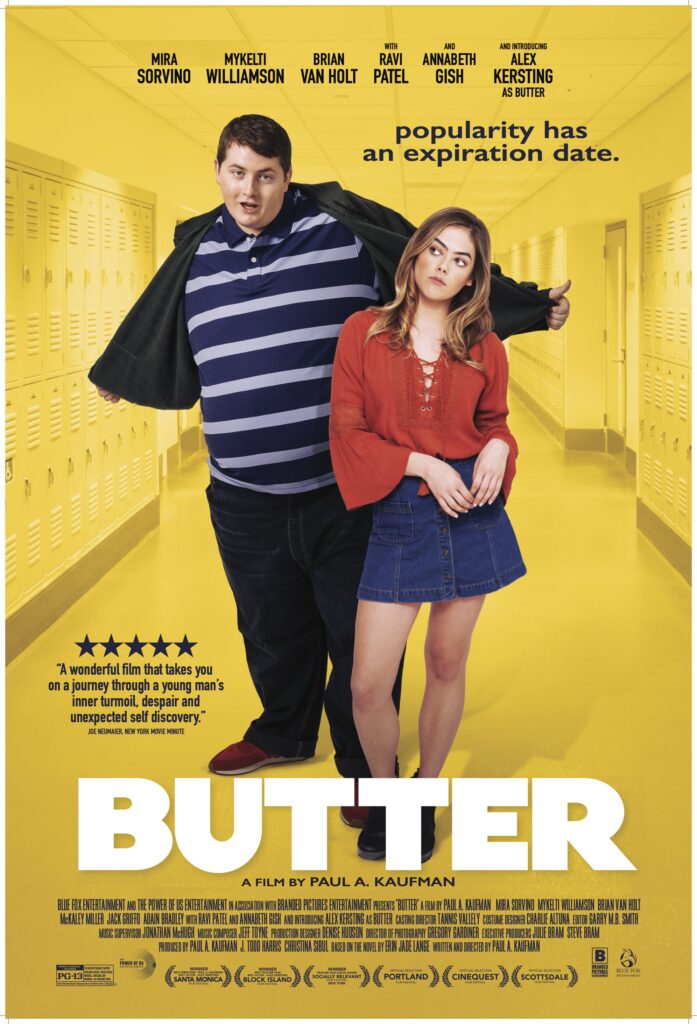 When it opens in theaters today and heads to digital soon, Butter will again cast a spotlight on the themes of suicide, bullying, and mental health awareness. Suicide is such a focal point of this film that the official website contains full resources under the heading R U OK? Based on the original 2013 novel "Butter" by Erin Jade Lange, this dark comedy featuring first-timer Alex Kersting as Marshall "Butter" and Mira Sorvino as his mom "Marian" delivers a few laughs while taking on a heartbreakingly chronic theme.
Synopsis:
Butter is a smart, funny high school junior who happens to be obese. He secretly befriends the prettiest girl in school via social media by pretending to be a jock from another school. As Butter struggles with bullying and self-esteem at school, he plans an incredible social media stunt that will risk his life but gain him attention and popularity. As the day arrives can he really do it?

Source: Blue Fox Entertainment
Your decision to watch "Butter" or to share it with your older teens should definitely relate to how a film that handles such dark topics will impact your own mental health. While treated with grace, any discussion of suicide can trigger harmful ideation. I had to screen the film in three sittings, not because it wasn't entertaining, but because I needed to come up for air a few times for my own wellbeing.
Join @LisaHendey for a look at Butter @themoviebutter @BlueFox_Ent #WhatNotToDoWithButter #ButterTheMovie #newfilm #ComingofAge #Drama #movie #hollywood #trending #Family #IndieFilm #YoungAdult #PopularityHasAnExpirationDate #Comedy
Click To Tweet
"Butter" is the kid who by all outward appearances should have no reason to be suffering. Bright, musically talented, and spoiled by two seemingly wealthy parents, he struggles with one major problem: obesity.
The script by Paul A. Kaufman points us to a few root causes: Mom's a successful realtor with a penchant for overfeeding her only child, perhaps to prove her love. Dad "Frank" (Brian Van Holt) loves his son but is disappointed that he hasn't put his big size to use as a sports star but instead is a gifted saxophonist. Butter has loving adults in his life. Professor Dunn (Mykelti Williamson) is a compassionate music teacher who spots and nurtures Butter's genius. Doc Bean (Ravi Patel) is a pretty cool pediatrician who's working to help Butter get healthy physically.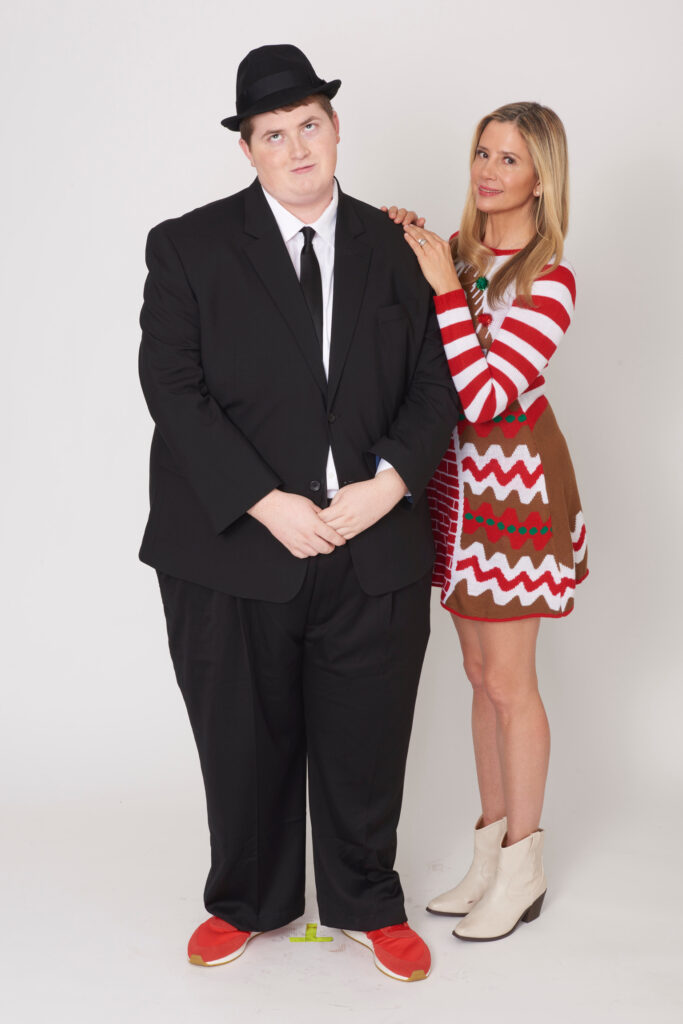 But having been bullied from his earliest days of high school when cool kid Jeremy (Jake Austin Walker) convinces his posse of popular minions to pin Butter to the ground and force-feed him a stick of butter (thus the nickname!), Butter has become the school's target. He has a few positive relationships, including a long-term friendship with Tucker (Matthew Gold), a formerly "fat" (I hate that word) friend who's managed to drop weight and is headed to "The Institute", a boarding school for students with eating disorders. Butter's also in love with Anna (McKaley Miller), with whom he's carrying on a largely falsified internet relationship while harboring a real-life at school crush.
When Butter somehow comes up with the idea to livestream a "last meal" on New Year's Eve and broadcast his own death online, his popularity suddenly rages. Two sidekicks, Trent (Adain Bradley) and Parker (Jack Griffo) take advantage of Butter's situation to wrangle bets and make money. But they also end up spending time with Butter. Anna, still not recognizing that she's being "catfished" by her online love, brings up Butter's social stock when she befriends him in real life (still not realizing he is her online crush). Suddenly, Butter's too cool for the band kids, even though he knows his newfound popularity centers around a sick prerequisite: that he must eat himself to death with a live audience watching.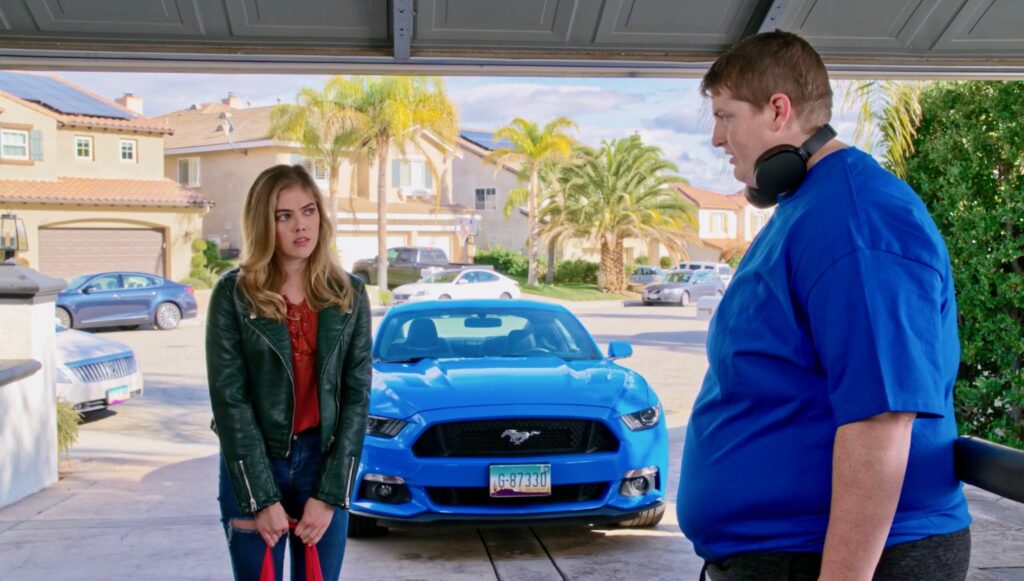 For families looking to have a discussion about mental health issues, bullying, and suicide, "Butter" could be a helpful jumping off point for deep conversation:
What should you do if you are feeling suicidal ideations?
What should you do if you know someone who may be contemplating self-harm or suicide?
How can you protect yourself online?
Who are the safe adults in your life that you can go to for help under any circumtances?
I won't spoil the ending by telling you what happens for Butter and the many characters with whom you'll connect in this film. I simply want to stop for a moment and ask, "Why?"
Why do we live in a society where suicide remains one of the leading causes of death?
Why do children have to earn attention from their bullying peers by self-harm?
Why does body image remain fair game for humor?
Why can't we love one another as God made us?
I don't have any answers today. But watching Butter made me stop and think. Maybe it will do the same for you. And maybe, in the thinking, we will move a step closer to hope.
Call the National Suicide Prevention Lifeline (Lifeline) at 1-800-273-TALK (8255), or text the Crisis Text Line (text HELLO to 741741). Both services are free and available 24 hours a day, seven days a week. All calls are confidential. Contact social media outlets directly if you are concerned about a friend's social media updates or dial 911 in an emergency. Learn more on the Lifeline's website or the Crisis Text Line's website.