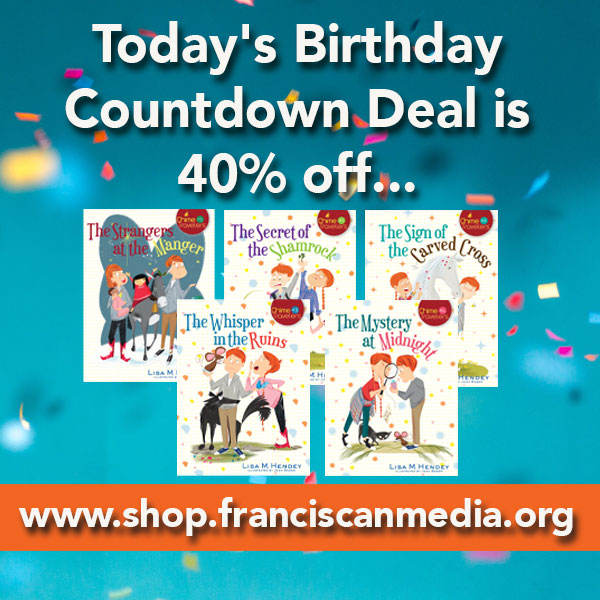 This week, in honor of the birthday celebration for Franciscan Media's online shopping store, the publisher of my Chime Travelers series of books is offering some terrific discounts. Among them is the chance to purchase the entire series of five books for 40% off the normal price.
To take advantage of the sale, head over to the Franciscan Media site and use promo code BirthdayChimeTravelers during the checkout process or go directly to https://hubs.ly/H0kqhCc0
---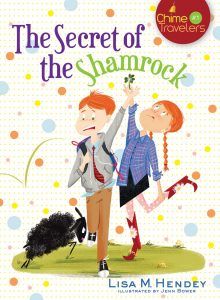 The Secret of the Shamrock: When Patrick has to work on his church's cleaning team on a Saturday, he thinks his weekend fun is ruined. But when the old church bells start chiming, Patrick and his pet frog, Francis, are suddenly taken back through time to ancient Ireland. Will the strange shepherd he meets be able to help him get home, or will Patrick be stuck taking care of sheep in the rain and mud forever? Find out in The Secret of the Shamrock.
---
When I wrote the series, I hoped that it would bless families and classrooms by helping them to fall in love with the stories of the saints. But I also hoped that it would equip young readers to solve their own problems, to feel ownership of their parish and school communities, and to see the needs of the world around them and understand that they can and should be a part of helping those in need.
Now, four years later, the books are being read in schools around the world. During those four years, I have had the great joy of traveling in person and "virtually" to scores of classrooms. The readers share with me not only their love for the books but also their ideas for new Chime Travelers adventures. If it's God's will, I would love to add new books and also see these stories find new, creative platforms.
Your support for the books has meant the world to me. To keep us "Chime Traveling", please consider a discounted purchase this week. If you don't have children, a gift to your parish, school or local library can be a terrific way to support this work.
To take advantage of the sale, head over to the Franciscan Media site and use promo code BirthdayChimeTravelers during the checkout process or go directly to https://hubs.ly/H0kqhCc0