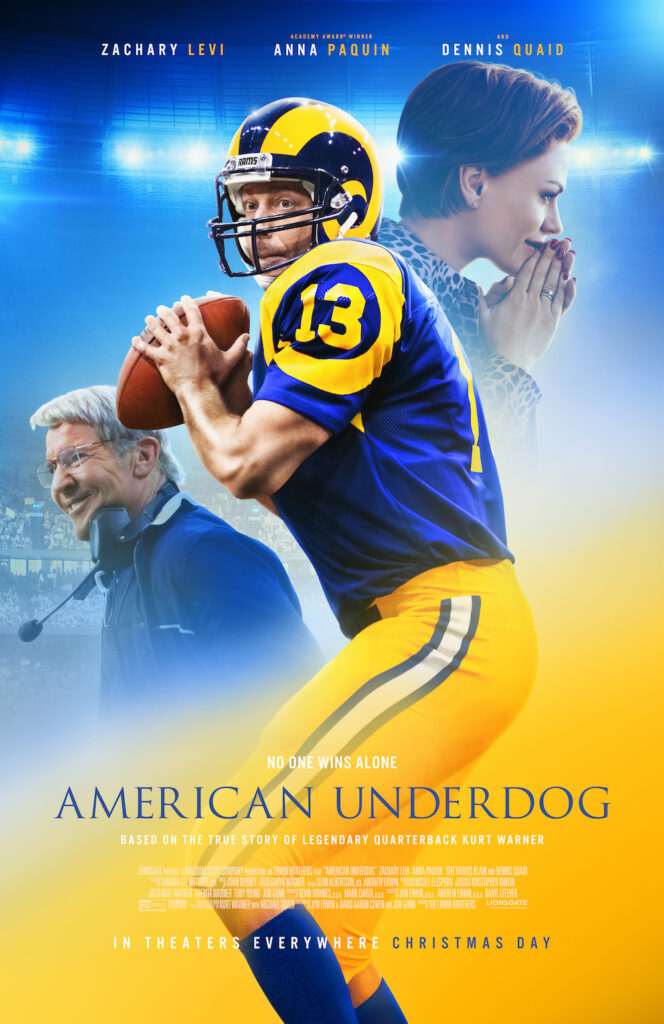 While on the surface, a film about football may not seem to be very "Christmas-centric", American Underdog, starring Zachary Levi as Kurt Warner, is just the type of family-friendly, inspirational entertainment that's perfect for the end of a nice long celebration of all that is good. Today, the film's producer Kevin Downes joins us for a sneak peek at the movie, which will be opening nationwide in theaters on Christmas Day.
Synopsis:
American Underdog tells the inspirational true story of Kurt Warner (Zachary Levi), who went from a stockboy at a grocery store to a two-time NFL MVP, Super Bowl champion, and Hall of Fame quarterback. The film centers on Warner's unique story and years of challenges and setbacks that could have derailed his aspirations to become an NFL player – but just when his dreams seemed all but out of reach, it is only with the support of his wife, Brenda (Anna Paquin) and the encouragement of his family, coaches, and teammates that Warner perseveres and finds the strength to show the world the champion that he already is. American Underdog is an uplifting story that demonstrates that anything is possible when you have faith, family and determination.

Source: Lionsgate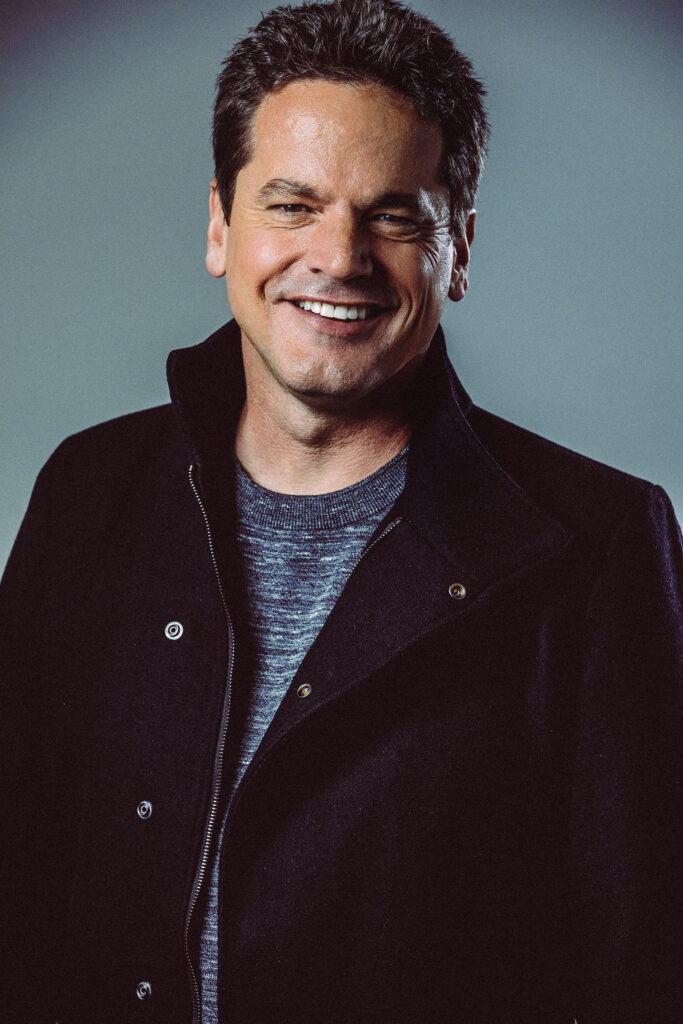 Q: Congratulations on the release of American Underdog! What inspired your team to take on this particular story?
Our mission is to take on true stories that showcase the power of Jesus in people's lives… that's been a recurring theme in our last 4 films. Kurt and Brenda's story is one that really related to so many people in America and we believe that now, more than ever, is the perfect time to share this story in a movie.
Q: With the film being based upon Kurt's book "All Things Possible", how involved was he in the adaptation to screen?
Kurt and Brenda were very much involved… from the get-go… we got together and shared what our visions were for making a film. Once we realized we were aligned, then it was a matter of when…. We are blessed that our partner, Lionsgate, got behind us in such a significant manner.
Q: Tell us a bit about working with Zachary Levi in his role as Kurt Warner?
Zach is a lot of fun. Obviously, he takes portraying Kurt very seriously and prepared for this role, and was extremely focused. I thought he did a fantastic job!
Q: Brenda Warner is herself a force of nature! How did Anna Paquin prepare to play her with so much impact?
Anna is such a student of the art. She not only read the book but had many conversations with Brenda so she could understand and take a deep dive into portraying her authentically.
Q: What kinds of unique production challenges were there in pulling off a film of this scope during pandemic times?
This was one of the most difficult films I have ever done. Aside from the pandemic, Oklahoma was struck with a 100-year blizzard, right in the middle of filming. Of course, we made it a part of the production and it stuck in the final edit!
Q: Why is a Christmas release perfect for this kind of family film?
We believe Christmas is our #1 day of the year where families focus on the birth of Jesus. Our family slows down and rests and often times will take in a film. The message of this film is about hope. The birth of Christ IS our hope. There was no better time than during Christmas AND football season to bring this story out.
Q: Are there any additional thoughts or comments you would like to share?
I encourage people to check out American Underdog while it is in theaters. Bring your family… You will enjoy it!!
American Underdog, opening in theaters Christmas Day, is rated PG for some language and thematic elements