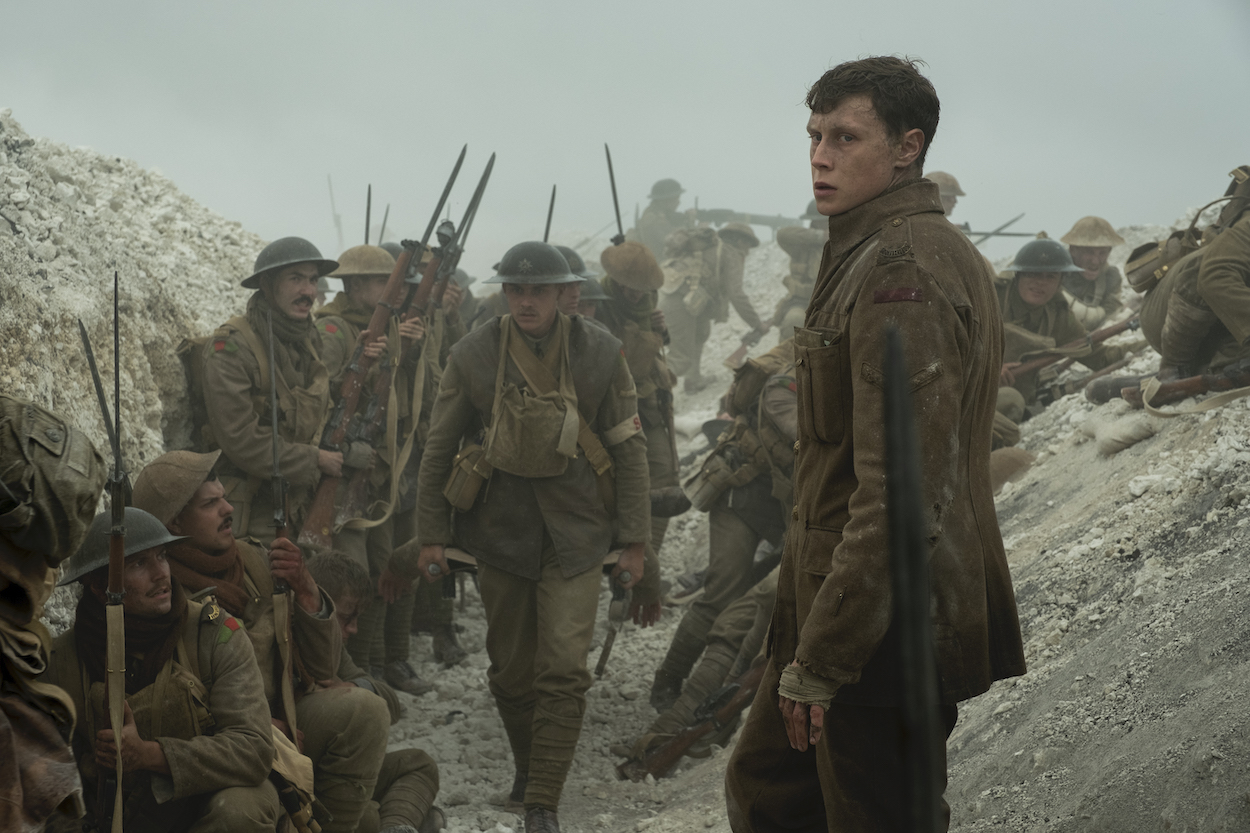 Synopsis:
At the height of the First World War, two young British soldiers, Schofield (Captain Fantastic's George MacKay) and Blake (Game of Thrones' Dean-Charles Chapman) are given a seemingly impossible mission. In a race against time, they must cross enemy territory and deliver a message that will stop a deadly attack on hundreds of soldiers—Blake's own brother among them.
For generations raised with cell phones in hand and streaming content on-demand, it is perhaps unimaginable to think that the lives of thousands of brave troops could possibly depend upon the ability of a messenger to hand-carry an order across enemy lines. Today's technology enables communication and strategic decisions to play out in the blink of an eye. "War", far too common in our world, has been in a sense sanitized as something we watch on social media or play in video games. "The Great War", as World War I is often known, is a distant memory and for many a completely unknown page in our collective story.
For these reasons, 1917 not only offers an important look at a chapter in history, but also challenges us to a consideration of courage, valor, mission, and purpose. As a boy, Oscar®-winning director Sam Mendes was fascinated by his grandfather's accounts of his military service in World War I. Lance Corporal Alfred H. Mendes, short in stature, served as a messenger on the Western Front. His tales became the inspiration for his grandson's innovative look at the imagined race against time which plays out in 1917.
At the height of the First World War, Lance Corporal Schofield (GEORGE MacKAY) and Lance Corporal Blake (DEAN-CHARLES CHAPMAN) receive daunting orders. They must cross into enemy territory to deliver an important message. They have less than a day to save the lives of 1,600 fellow troops, including Blake's own brother. If they fail at their mission, the results will be catastrophic.
Opening in theaters 12/25 @1917 is a compelling look at courage and calling. Catch @LisaHendey's review and find out why #1917film is a must-see look at World War I
Click To Tweet
What follows is a race against time that plays out in a totally engaging "single-shot" style. Mendes employs innovative cinematic tactics that give the sense that we viewers are a third party running the gamut with Blake and Scofield. Without being overwhelming, composer Thomas Newman's score propels the action complimenting Mendes' vision with dizzying impact. The film's various filming locations, including Salisbury Plain in Southwestern England, transport us directly into the trenches, destroyed properties, haunted battlefields, and bombed-out churches along the Front. Littered with human remains from both sides and rats the size of cats, these venues become a maze of must-win trials for Schofield and Blake to conquer if they are to succeed at their mission. Because the action is entirely uninterrupted except in one brief, completely rattling moment, the pace of the film is relentless and often horrifying.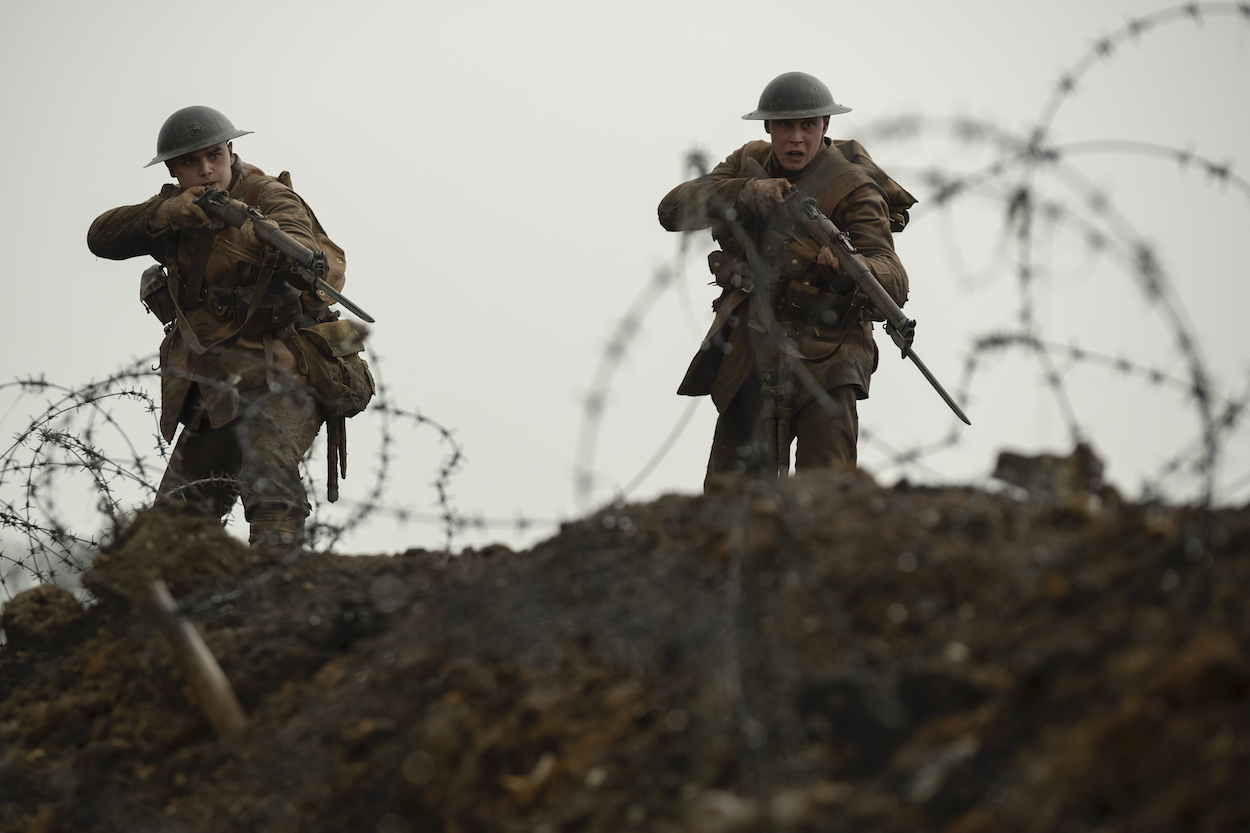 The majority of 1917 is carried by Schofield. It is his character that offers the greatest insight into the potential this film has to serve as a tool for our own learning and introspection. While Lance Corporal Blake is motivated by his desire to aid his own brother, Schofield's heroism shows itself most poignantly in several instances of sacrifice and valor. In more than one moment, he chooses not only to live but also to continue forward with his orders. An almost entirely male cast, including brief appearances by Colin Firth and Benedict Cumberbatch, is complemented by the brilliant performance by Claire Duburcq as a terrified young French woman who has found herself fighting not only for her own life but also to protect a young abandoned baby.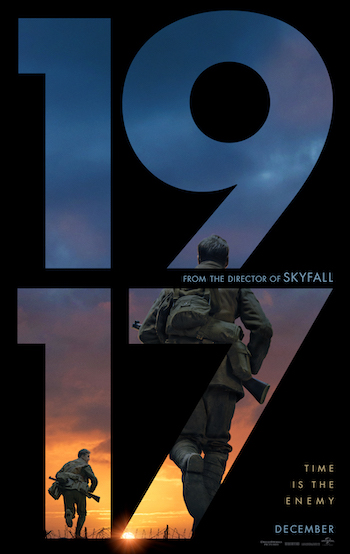 1917 is hard to watch but easy to love. Graphic images of human carnage and great peril are balanced by stunning moments of poignant beauty. One such standout moment occurs when a single soldier stands amidst his terrified brethren, plaintively singing "Wayfaring Stranger" as the troops anticipate the battle ahead. No words are spoken aloud, but we understand immediately in this scene the true price of war. Time and time again, Schofield drives forward against all odds. It is not until the final image of the film that we truly gain full insight into his motivation to survive.
Among the many reasons to see 1917 are the opportunity to better understand the complicated history of the First World War and the invitation to consider for ourselves what compels us to act in our own lives. Do we serve for the "medal", for public acclamation and recognition from others? Or do we give our all, even if against tremendous odds, for some higher sense of purpose or calling? Looking back invites us to look forward and to overcome our own moments of peril or fear with a greater understanding of why we strive to survive.
Rated R for violence, some disturbing images, and language, 1917 opens in limited release on December 25, 2019 and in theaters nationwide on January 10, 202
0.