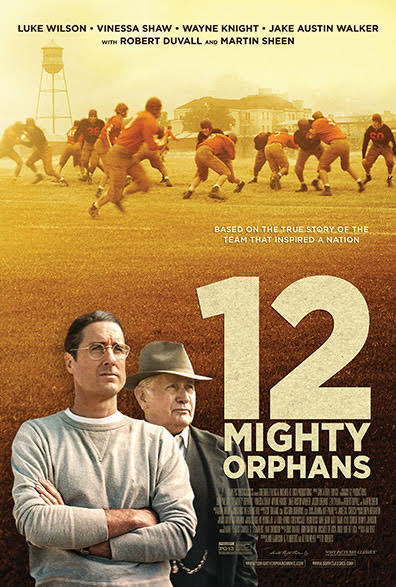 Sometimes football movies are just about football. But often, there are deeper messages embedded and the pain of players crunching into each other with devastating blows comes to symbolize profound internal pain at play. Our heroes battle obstacles on the playing field but must also do battle with their own crises and tragedies. This is definitely the case with 12 Mighty Orphans, the new Sony Classics film adapted from a true story retold in the Jim Dent book Twelve Mighty Orphans: The Inspiring True Story of the Mighty Mites Who Ruled Texas Football.
Synopsis:
12 MIGHTY ORPHANS tells the true story of the Mighty Mites, the football team of a Fort Worth orphanage who, during the Great Depression, went from playing without shoes—or even a football—to playing for the Texas state championships. Over the course of their winning season these underdogs and their resilient spirit became an inspiration to their city, state, and an entire nation in need of a rebound, even catching the attention of President Franklin D. Roosevelt. The architect of their success was Rusty Russell, a legendary high school coach who shocked his colleagues by giving up a privileged position so he could teach and coach at an orphanage. Few knew Rusty's secret: that he himself was an orphan. Recognizing that his scrawny players couldn't beat the other teams with brawn, Rusty developed innovative strategies that would come to define modern football.

Source: Sony Pictures
While 12 Mighty Orphans definitely comes around to a "feel good" conclusion, there are terrific struggles to get there. Coach Rusty Russell (Luke Wilson), himself a grown-up orphan, war hero, and PTSD sufferer decides–without consulting his wife Juanita (Vinessa Shaw)–to accept a coaching job at the bedraggled Masonic Home, a Texas orphanage for boys and girls. When Rusty and Juanita arrive, they discover that the easiest of their team's problems is the fact that the team has no uniforms, no equipment, and no football field. Far worse is the emotional turmoil these boys face both as a result of their past familial neglect and the corrupt nature of those charged with their wellbeing at the orphanage.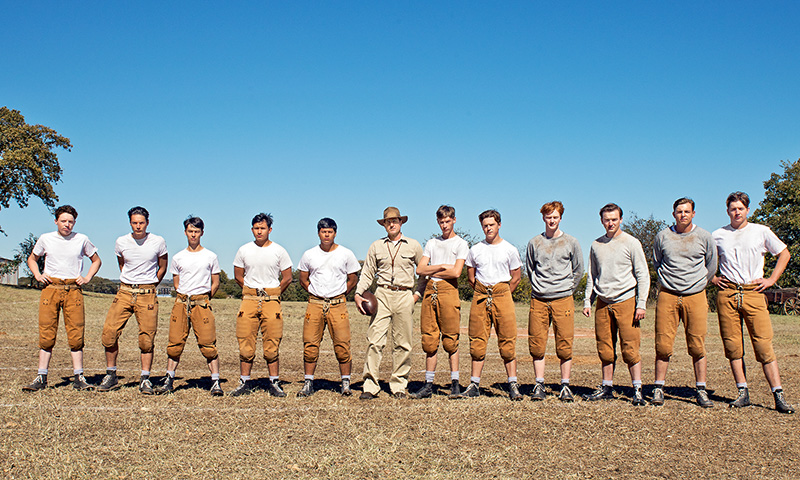 While the Mighty Mites overcome the odds to not only win tough football games but also become America's team, these scrappy young men also learn from Coach Russell that being "mighty" means more off the field of play than on it. Russell also impacts the life of "Doc" Hall (Martin Sheen), a big-hearted physician devoted to the orphanage's mission but facing a demon of his own: alcoholism. While Rusty coaches and Juanita teaches, their love for one another also becomes a lesson in what family really means for these boys and girls, many of whom have simply been abandoned by their parents. Wayne Knight ("Newman" on Seinfeld) is awesomely evil as Frank Wynn, the corrupt staffer who will do absolutely anything to exploit the orphans in his care.
Check out @LisaHendey's take on the new @SonyClassics film #12MightyOrphans starring Luke Wilson and Vinessa Shaw with Martin Sheen and Robert Duvall.12 Mighty Orphans
Click To Tweet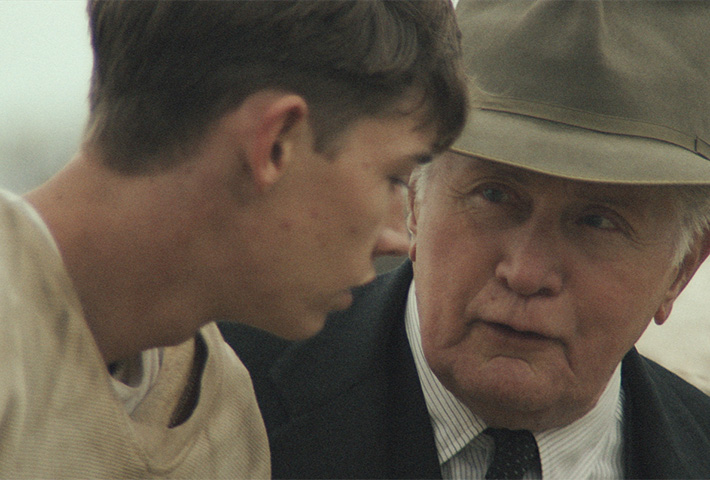 In many ways, 12 Mighty Heroes is a tough watch. It earns its PG-13 rating for violence, language, some suggestive references, smoking, and brief teen drinking, but it's really the terribly abusive circumstances these children face that are most heartbreaking. Coming on the heels of reporting of yet another residential school rife with abuse, movies that remind us to look back at past crimes to avoid future ones are both painful and yet critically important. Director Ty Roberts' choice to include the real lives of the twelve original Mighty Mites at the end of the film reminds us of their legacy beyond football.
Rusty and Juanita served at the Fort Worth Masonic Home from 1927 to 1942. While he's known as the "The Father of the Spread Offense", 12 Mighty Orphans has led me to believe that Russell's outstanding 81% winning percentage was likely exceeded by the off-field wins in the lives of the young men and women the Russells served and loved.