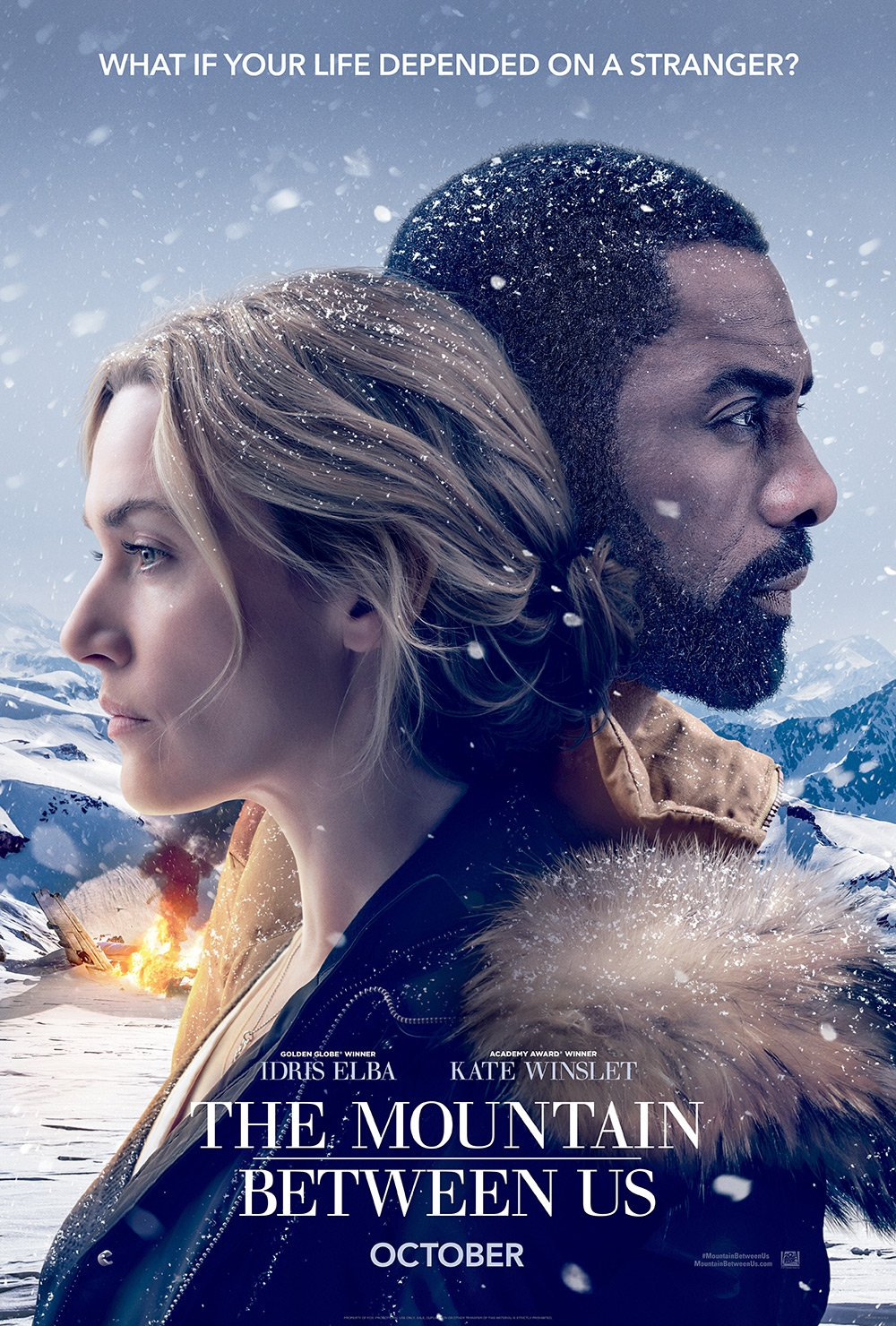 Based on the book by Charles Martin, The Mountain Between Us is a love story wrapped up in a survivalist adventure. Idris Elba and Kate Winslet are compliments to a vast pallet that's compellingly captured by director Hany Abu-Assad's cinematographic vision.
I could have done without the explicit scene that occurs midway through the film. The relationship between Elba's Ben and Winslet's Alex is a key component of their survival, but their grit and determination to persevere are what really caught my interest. I would love to have seen a version of this film that allowed our two main characters to find vocal expression for the feelings that were clearly stirring in their hearts without resorting to a love scene that makes this film one I can't recommend for families.
Synopsis:
Stranded after a tragic plane crash, two strangers must forge a connection to survive the extreme elements of a remote snow-covered mountain. When they realize help is not coming, they embark on a perilous journey across hundreds of miles of wilderness, pushing one another to endure and discovering strength they never knew possible. The film is directed by Academy Award nominee Hany Abu-Assad and stars Academy Award winner Kate Winslet and Golden Globe winner Idris Elba.
Trailer:
My Take:
I loved almost everything about The Mountain Between Us.
What's telegraphed early is that Alex (Winslet) is an adrenaline junkie whose anxiousness to get to her wedding at the last minute points to some qualms. If she really wanted to get married, why is she waiting until the very last minute to get into the proper zip code? We also learn fairly quickly that Ben (Elba) is a non-communicative, down-to-business doctor who'll go to extreme measures to serve a patient in need of surgery.
If you love #LOST or @survivorcbs check out @LisaHendey review of @MountainBetween
Click To Tweet
When bad weather forces the cancellation of their flights, Alex and Ben–deciding to take matters into their own hands–pool their resources. They hire Walter (Beau Bridges) a private charter pilot to fly them home. The fact that Walter's co-pilot is a dog and that he neglects to file a flight plan should probably be red flags for Ben and Alex. But their motivation to reach their destinations clouds their vision. They embark on what's initially a picturesque journey in a tiny plane. Unfortunately for Walter's dog, Ben, and Alex, the small craft pilot suffers a massive stroke somewhere over a remote stretch of snow-capped mountains.
As a frequent flyer, Survivor fanatic and LOST junkie, I was equal parts horrified and fascinated by what comes next. When their plane crash lands, Alex and Ben must survive the frozen tundra to defy the odds and find their way off the top of an isolated mountain and back to civilization.
Believe it or not, the crash scene was actually one of my favorite scenes of the film. For me, it was one of those "What would I do in those seconds I have before the crash?" moments.  Also stunning are the massive views atop the snow-crested peaks where their plane eventually comes to rest. Walter, the pilot, is dead immediately, but his dog survives and becomes an important character as Ben and Alex eventually begin to make their way back to their real lives. Use of drone photography gives us sweeping perspectives on just how really lost our characters are. The score by Ramin Djawadi adds to the experience.
Without spoiling the action, I think it's fair to say that an important part of this film is what comes after what the viewer originally believes to be the happy ending. Along the way, the chemistry builds between Ben and Alex and we learn a bit more about the "mountains" they have built up in their own lives and even between themselves.
The Mountain Between Us is rated PG-13 for a scene of sexuality, peril, injury images, and brief strong language. I'd call this film "adults only" and also wouldn't recommend viewing it on an airplane.