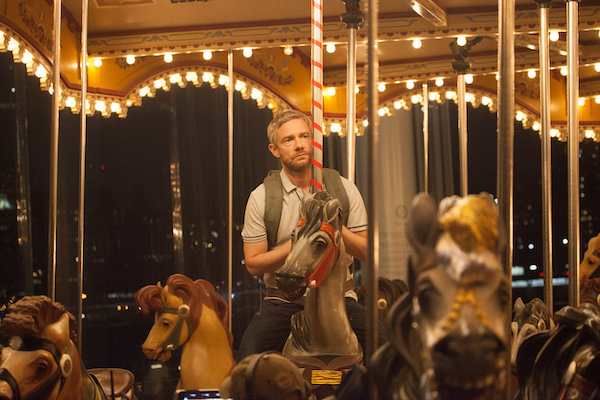 What if the sensation of feeling joy, bliss, or happiness was akin to a death sentence? Could you survive if giggles or happy tears or elation brought with them the risk of ending it all? ODE TO JOY, opening in select theaters and streaming on-demand now, begs this question.
Such is the case for Charlie, a Brooklyn librarian evenly played by Martin Freeman. The risk of happiness is so deadly for him that he deprives himself of any situations that could lead to danger. Thankfully for Charlie, his loveable brother and wingman Cooper (Jake Lacy) is always nearby to watch out for moments of joy that could lead to ruin.
Check out @LisaHendey review of @IFCFilms new rom-com #OdeToJoy starring Martin Freeman. What would you do if feeling happiness wasn't healthy for you?
Click To Tweet
Synopsis:
How does a man who is—literally—paralyzed by happiness find love? Thanks to a condition called cataplexy—a rare disorder that causes him to lose control of his muscles whenever he is overcome by strong emotion, particularly joy—Brooklyn librarian Charlie (Martin Freeman) has learned to carefully edit all delight-triggering people, places, and events out of his life. Family weddings, cute babies, adorable puppies, and, yes, romance are all fraught with peril in Charlie's carefully managed world. But when the beautiful, spontaneous Francesca (Morena Baccarin) falls for him, the risk-averse Charlie finds himself at a crossroads: suppress his feelings of attraction, or take a chance and let love in? Based on a true story originally featured on This American Life, Ode to Joy is a hilarious and touching look at what happens when we stop being afraid and let ourselves truly live.
Choosing Not to Feel
I'm certifiably a joy-a-holic. So I was struck by the premise ODE TO JOY puts front and center: would I want to live a joyless existence to preserve my life? Could I choose to set aside any possibility of personal satisfaction for the sake of living longer?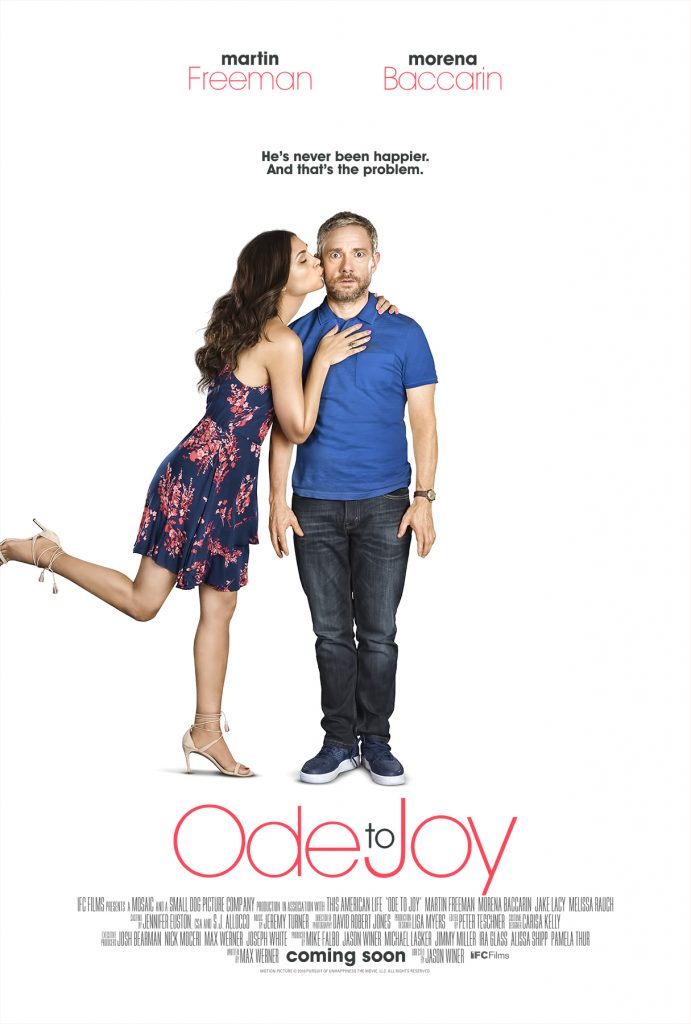 While I don't suffer from cataplexy, defined by Wikipedia as "a sudden and transient episode of muscle weakness accompanied by full conscious awareness, typically triggered by emotions such as laughing, crying, or terror", I tried to ponder this "what if" with different scenarios. What if happiness could cause an allergic reaction as deadly as my nephew's allergy to peanuts? What if happiness was as risky as riding the wrong way down the 405 Freeway on a speeding motorcycle? What if happiness was like walking on a tightrope dangling between the New York City buildings that serve as the backdrop for the tender story in ODE TO JOY?
Would I choose, as Charlie tries to do by even such outlandish tricks as placing tacks in his shoes, to stymie "all the feels"? Or would I throw caution to the wind and choose to dive headlong into fully living?
ODE TO JOY is at its best when it causes us to look at the way we choose to completely engage with our own lives. While Charlie and Cooper's relationship is fun and Francesca (Morena Baccarin) is both Charlie's obvious crush and his worst nemesis, it's Bethany (awesomely played by Melissa Rauch of Big Bang Theory) who stole my heart. Bethany's brand of eccentric blandness, her practical cotton underpants and cello cover of The Cranberries' "Zombie", and her good for Charlie's disease but not for his heart existence finally help Charlie confront major life choices.
ODE TO JOY is an adult film rated R (for some language and sexual references). See it if you enjoy romantic comedies with an intellectual, urban bent. And if you do, let me if you'd choose to risk it all to feel it all.
Spoiler alert: I would.
Find tickets or watch at home at OdeToJoy.movie.