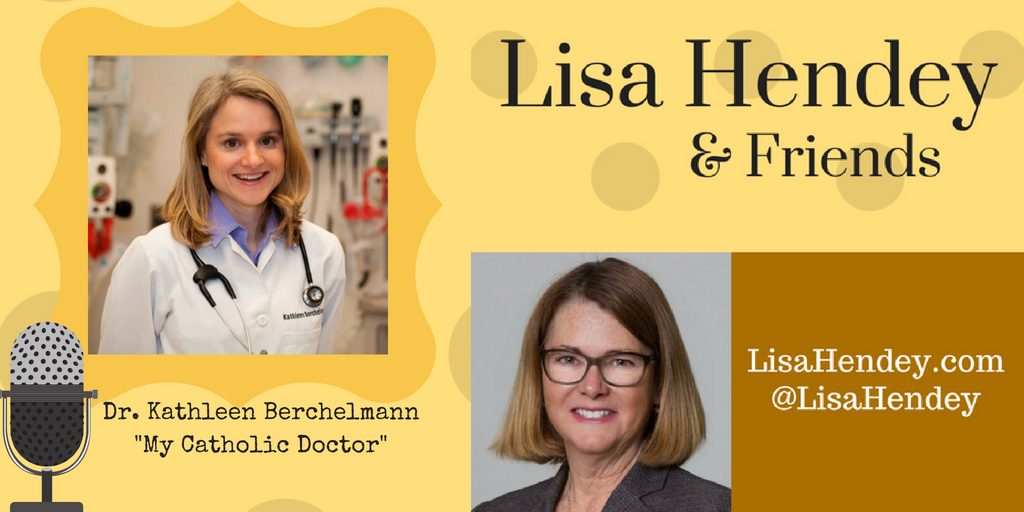 Listen to this week's podcast online at Podbean, Libsyn, iHeartRadio
On this week's show, we welcome Dr. Kathleen Berchelmann, wife, mom and founder of My Catholic Doctor, for a conversation on health care, faith and the potential benefits of modern telemedicine.
Dr. Kathleen Berchelmann: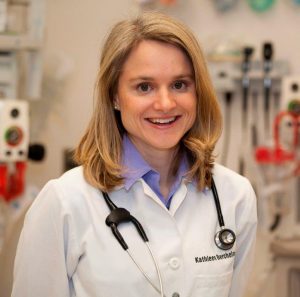 Dr. Berchelmann is a pediatrician, wife and a mother of six children.  For several years she was a monthly contributor to CatholicMom.com. She sees patients from birth through young adulthood. Her practice includes all general pediatric and adolescent medical needs.  She is commonly consulted by families desiring a faith-based approach to depression, anxiety, ADHD, ADD, and autistic spectrum disorder.  She speaks nationally on vaccines derived from aborted fetal tissue, also known as human diploid cell line vaccines.
She is board certified in Pediatrics and a fellow of the American Academy of Pediatrics, The American College of Pediatricians, and the Catholic Medical Association.
After graduating from Amherst college in 1998, she completed a fellowship in medical ethics at Weston Jesuit School of Theology.  Kathleen graduated from the University of Connecticut School of Medicine in 2003, and completed her internship and residency in pediatrics at Washington University in St. Louis and St. Louis Children's Hospital.  She stayed on as clinical faculty at Washington University School of Medicine for another ten years. During that time she became a Certified Professional in Health Information Management Systems (CPHIMS) and worked in health IT for St. Louis Children's Hospital, optimizing electronic medical records.  She also served as Spokesperson for St. Louis Children's Hospital and learned health marketing through the media. In 2016 she accepted a faculty position at The University of Missouri School of Medicine with a clinical appointment in Pediatric Emergency Medicine at Mercy Hospital in St. Louis.
In 2018, with the help of her husband Greg, Dr. Berchelmann founded MyCatholicDoctor, using telemedicine to bridge the geographic distance between the patients and families that want authentic Catholic medicine and the providers that long to practice their healing arts with the full voice of their faith.
On the podcast @LisaHendey welcomes Dr. Kathleen Berchelmann, wife, mom and founder of My Catholic Doctor, for a conversation on health care, faith and the potential benefits of modern telemedicine.
Click To Tweet
My Catholic Doctor:

MyCatholicDoctor is a new company opening September 1st, 2018 that will bring a team of faithful Catholic medical providers to patients through video-based health consultation on almost any smartphone, computer, or tablet.
Why does it matter if your doctor is Catholic?  It comes down to trust. Trust in the fact that your doctor is not only well-trained in their specialty but also believes they are accountable to God for their practice of medicine and the way they treat their patients.  They strive every day to die to themselves and let Christ live in them. Jesus is the ultimate healer. With Jesus in our hearts every day, the providers at MyCatholicDoctor can reveal the healing power of Jesus Christ.
But patients want more than trust– they also want convenience.  Patients want to access a physician they trust quickly and easily.  In 2017 laws regarding medical licensure for interstate telehealth changed, making it easier for physicians and other healthcare providers to be licensed in multiple states.  This opened the door for a dream we have been creating in our heads for many years, a dream to bring together faithful Catholic healthcare providers and the patients who desire the full range of healing arts they provide.
MyCatholicDoctor plans to offer the following services:
Consultation with trusted specialists and primary care providers, either on a one-time or ongoing basis.
Behavioral health, including psychiatric care, counseling, social work, and spiritual direction, all from a Catholic perspective.
NaPro Technology and Natural Family Planning Services
Emergency miscarriage and pregnancy loss support offered free of charge
"The Wonder of Eve," a mother-daughter sexual health educational program for adolescents which we will host by webinar.  Father-son program coming soon.
School-Based TeleHealth/Virtual Care: We will provide pediatricians and counselors to Catholic schools and colleges through video-based visits to allow Catholic schools to meet the recommendation of the American Academy of Pediatrics for school-based telehealth while staying faithful to the U.S. Conference of Catholic Bishops Ethical and Religious Directives for Health Care.
Speech therapy, for both Catholic schools and in-home services
Crisis pregnancy center support: We will be available to medical providers at crisis pregnancy centers for telehealth/virtual consultation.
Virtual Convenient Care for minor illness such as influenza
After hours call coverage for private practices
We do not envision MyCatholicDoctor as a replacement for a primary care provider at this time.  Rather, we see ourselves as available for a second opinion or consultation during those times when a patient is concerned about the opinion of their local healthcare provider.
My Catholic Doctor is currently exploring several models of reimbursement:
Cash payment– we will open on September 1st, 2018 as a cash-only service
Direct contracts with the Catholic healthshare organizations: MyCatholicDoctor is in positive conversation with Solidarity Healthshare and plans to provide telehealth services to the 11,000 lives enrolled in Solidarity.
For More Information:
This Week's Show:
Check out all of our book and movie picks at Lisa's Amazon Page. For Lisa's speaking schedule visit www.LisaHendey.com. Send your feedback to lisahendey@gmail.com or connect with Lisa on social media @LisaHendey. Thanks for listening! Please consider sharing, bookmark my page for future episodes and subscribe at iTunes to catch every show. Please consider leaving a review or rating for the podcast to help us grow!