On this week's show, we welcome John Abbate, the author of the fantastic new book Invest Yourself: Daring to Be Catholic in Today's Business World. Learn more about John's work and connect with him at Dynamic Catholic. Visit Possibility Productions at www.possibilityproductions.org.



Enjoy a look at John Abbate's professional, family and spiritual life.
John Abbate: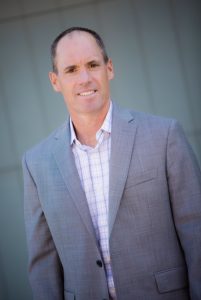 John Abbate is an independent franchisee/owner-operator of McDonald's restaurants throughout the Central Valley of California, and a strategic adviser to the Dynamic Catholic Institute. He is co-founder and president of Possibility Productions (www.possibilityproductions.org), a non-profit apostolate in support of the mission of the New Evangelization. A well-known speaker on business topics such as brand strategy, entrepreneurship, and management, Abbate also speaks to Catholic colleges and universities, professional groups, parishes, and conferences about the integration of faith, family, and work in everyday life, and incorporating the gospel message in today's culture.
My Take:
Whether you're the CEO of a Fortune 500 or your domain is a suburban minivan, prepare to embrace all that God has in store for your life by studying and sharing the precepts in Invest Yourself. John Abbate, a successful executive with a vibrant spiritual life, candidly invites each of us to ask the big questions that sometimes stand in the way of claiming the true prosperity God desires for us. John's journey to fulfillment offers us a template that we can embrace regardless of our vocation or station in life. God desires our best and wants to give us the best! Dare to commit yourself to true encounter, lasting change and the abundance that comes from mission-oriented vision.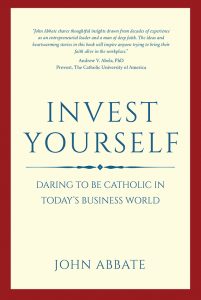 About the Book
Invest Yourself is the story of one man's quest to live his faith boldly and authentically in the workplace. A real estate investor and the owner of multiple McDonald's franchises for over twenty-five years, author John Abbate has had his share of difficult experiences. As his personal faith grew, he began to think differently about how he could be a more effective leader. He began putting the needs of his employees first, using his resources to assist them with their hardships, and inspiring them to strive for excellence. Along the way he discovered that business success and a deep Catholic faith aren't mutually exclusive, but instead together form the basis of a life that is rich in what matters. We are all called to lives of abundance expressed in self-giving. Whether you are an entrepreneur or an engineer, a civil servant or a carpenter, a stay-at-home mom or a CEO, this book will inspire you to rise to the challenge put forth by St. John Paul II to place your intelligence, your talents, your enthusiasm, your compassion, and your fortitude at the service of life.
Check out the latest episode of @LisaHendey and friends featuring @DynamicCatholic author John Abbate @mcdonalds owner. Learn to #InvestYourself in work, faith, life and thrive!
Click To Tweet
This Week's Show:

Listen at Podbean
For More Information:
Check out all of our book and movie picks at Lisa's Amazon Page. For Lisa's speaking schedule visit www.LisaHendey.com. Send your feedback to lisahendey@gmail.com or connect with Lisa on social media @LisaHendey.
Thanks for listening! Please consider sharing, bookmark my page for future episodes and subscribe at iTunes to catch every show.