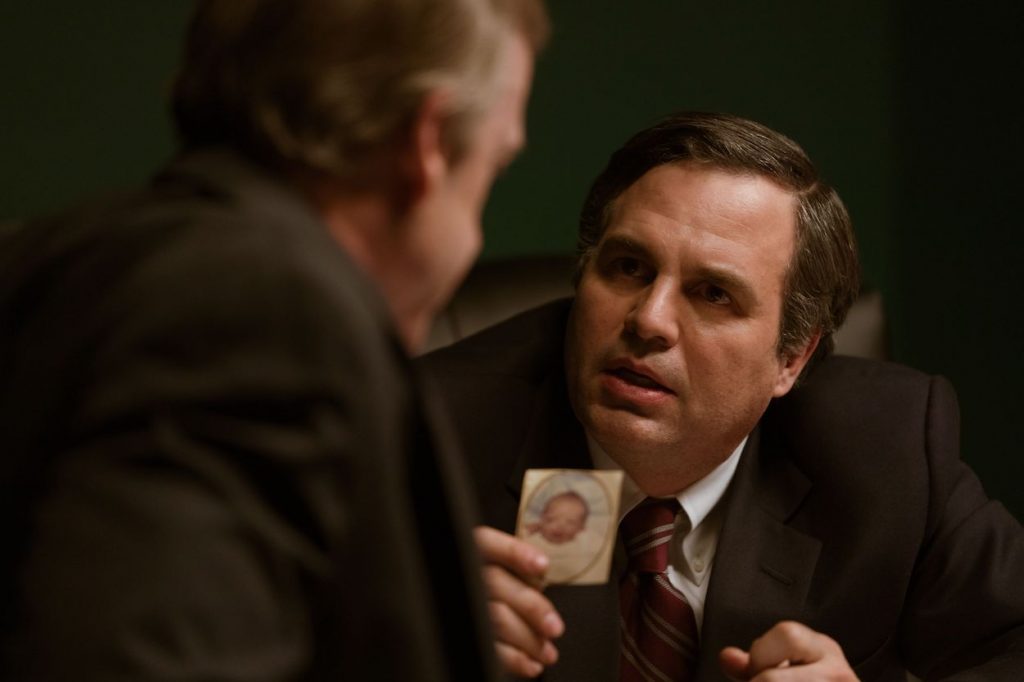 Be prepared. By the time you finish watching "Dark Waters" in theaters this December, you're going to want to run home, search your cabinets for teflon-containing products, tear up your dated carpets, and scour your children's toy bins for plastic products. Most of us, when witnessing the havoc that a chain of chemicals can and did wreak in one West Virginia community, won't be able to look at man-made conveniences in the same way after we know the truth that was discovered.
Synopsis:
Inspired by a shocking true story, a tenacious attorney (Mark Ruffalo) uncovers a dark secret that connects a growing number of unexplained deaths due to one of the world's largest corporations. In the process, he risks everything — his future, his family, and his own life — to expose the truth.
When we meet attorney Robert Bilott (Mark Ruffalo) in 1998, he is a new partner at a firm specializing in corporate defense. One day at the office, massively disgruntled farmer Wilbur Tennant (Bill Camp) and his brother appear with a box full of video evidence that something nefarious is happening on his farm.
Since Tennant is a friend and neighbor of Bilott's beloved grandmother, the young lawyer eventually agrees to drive out to Parkersburg, West Virginia to visit his grandmother and pay a visit to Tennant's property. When he does, the insistent farmer shows him video evidence of his livestock's bizarre behavior, presents him with preserved remains of the dead cows, and ultimately the graves of 190 dead cows. Convinced that the case at least deserves to be investigated, Bilott approaches the head of his firm, Tom Terp (Tim Robbins), and receives permission to take the case on as a "side project".
What follows is the odyssey of the nearly two decades that Bilott spends devoting his life to an investigation of Dupont and its "PFOA-C8", a man-made chemical used to produce Teflon. Along the way, we meet Bilott's long suffering wife Sarah (Anne Hathaway), who endures Bilott's increasing obsession with the case and the impact it has on his health and his growing family. Along the way, the family struggles financially, emotionally and spiritually, but Bilott remains committed to what often seems to be a victory against a seemingly unbeatable foe.
Check out @LisaHendey's review of #DarkWaters @DarkWatersMovie, a legal thriller that looks at one committed lawyer's long battle against corporate malfeasance in a West Virginia community.
Click To Tweet
Dark Waters is a cautionary tale. Rufallo captures not only Bilott's enduring passion for his cause but also the attorney's increasing slide into the darkest corners of life. Hathaway is exceptional as a wife whose limits are reached but who never gives up on her husband. The community of Parkersburg is ground zero for not only corporate irresponsibility, but indeed for proven malevolence that takes years to defeat. But despite initial resistance, the people of Parkersburg eventually band together, shepherded by Harry Dietzler (Bill Pullman). Robbins has a remarkably zealous scene as Billot's legal partners weigh whether or not to continue what seems by all measures to be a losing battle. Justice is not swift, but the retelling of account of this community proves a lesson that we must all pay close attention to corporate innovations and their impact upon our health and our planet.
Dark Waters is rated PG-13 (for thematic content, some disturbing images and strong language) and opens in theaters nationwide on December 6, 2019.