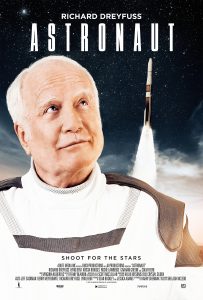 Opening in select theaters and on-demand nationwide, ASTRONAUT stars Richard Dreyfuss in a role that reminds us that we're never too old to grasp for our dreams. Widowed, living temporarily in his daughter's home, and feeling generally adrift, Dreyfuss' Angus seems resigned to living out his remaining days in monotony, trying not to be a burden. When the lifelong engineer and stargazer happens upon a contest to win a prized seat on a private space expedition, Angus is encouraged by his awesome grandson Barney (winningly portrayed by Richie Lawrence) to pursue his dream.
This film hit home for me in many ways. Like Angus, I'm a perpetual dream, albeit an aging one. And like Angus' daughter Molly (Krista Bridges) and her husband Jim (Lyriq Bent), our family has recently had to seek a Memory Care facility for our beloved mother as we grapple with the impact of her Parkinson's Disease. The scenes of Angus settling in with his new neighbors at a retirement facility hit a little close to home for me. Meant to be humorous, Angus' interactions with his fellow residents are a poignant reminder that our elders have so much to teach us if we stop and pay attention to them.
Check out @LisaHendey review of @Astronaut_Movie #AstronautMovie starring @RichardDreyffus - Now Playing In Select Theaters & On Demand.
Click To Tweet
ASTRONAUT may be light on action, but it's high on emotion and story. Dreyfuss feels better than ever in a role that encourages all of us to reexamine our bucket lists and to shoot for the stars.
https://youtu.be/bE1Nw5pEqL8
Summary:
Angus, a lonely widower, has his long-extinguished dream to become an astronaut reignited when a national competition is announced. The prize? One ticket for a trip to space! Way over the age-limit, Angus alters his birthdate so he can enter the competition. Against all odds, but with help coming from his dysfunctional family, he must battle against preconceptions, ill-health and time, to win the ticket and take the trip of his dreams.