Sharing on The Catholic Writers Guild Blog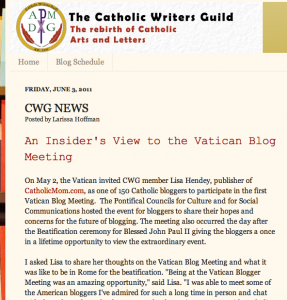 I'd like to thank Larissa Hoffman and the Catholic Writers Guild for featuring my recent trip to Rome on the Catholic Writers Guild blog. The Guild does tremendous work to educate, support and inspire Catholic authors. I thank them for allowing me to share about my trip and invite you to check out the wonderful benefits of Guild membership for yourself.
Every year, the Guild hosts two amazing conferences which provide a great opportunity for learning, friendship and networking. I will be participating in the August conference in Pennsylvania and would love to meet you there if you are a Guild member.